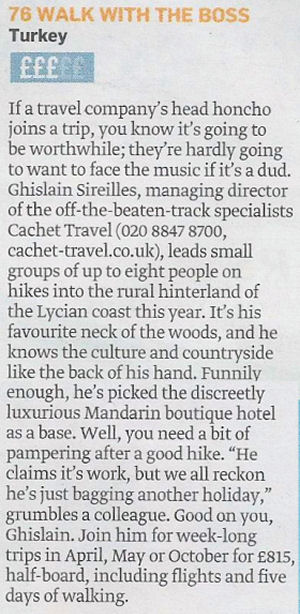 © Sunday Times
Published 29 January 2012
Cachet Travel's Walking Weeks at Mandarin Boutique Hotel in Turkey featured in Sunday Times 100 Best Holidays of 2012 list
Every January, Sunday Times travel writer Steve Bleach compiles his list of 100 Best Holidays, with emphasis on trips that offer something a little special or different from the usual run-of-the-mill holidays. We were naturally delighted that for 2012, he has included our dedicated Walking Weeks in Turkey, exploring sections of the Lycian Way from a supremely comfortable base, namely our exclusive Mandarin Boutique Hotel in Faralya.
The tours are guided by our very own Managing Director, Ghislain, who loves this region of Turkey and is truly passionate about its landscapes and customs; an aspect of the holiday that appears to have contributed to Mr. Bleach's decision to include the holiday.
Since publication of the article, the tour commencing on 7th May has sold out within a day and a half, but there are still spaces on the tours departing on Easter Monday (9th April) and in October. We are also planning to run additional departures on 30 April and 14 May in response to the number of enquiries we received, so if you are interested in travelling on any of these dates, please call us on 020 8847 8700.
Please click here for details of our Walking Weeks in Turkey.