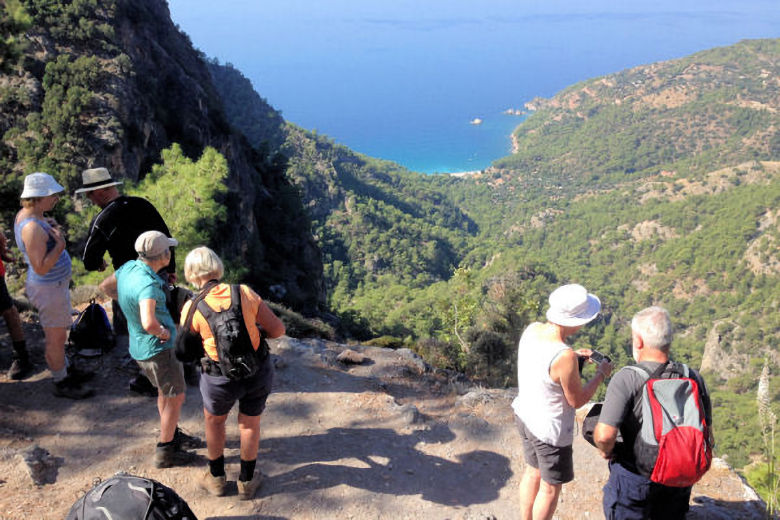 Walking along the Lycian Way
7-night holiday
Dates:
23 April - 30 April 2018
30 April - 7 May 2018
17 September - 24 September 2018
18 October - 25 October 2018 .
Price: £90 per person added to the basic cost of a week's holiday at Mandarin & Mango Boutique Hotels (currently £815-£1015 per person). Single Supplement £175
Minimum/Maximum Group Size: 6-8 people
For full details of our walking holiday venue, Mandarin & Mango Boutique Hotels, please click here.

Mandarin & Mango's mountainside setting close to the ancient Lycian Way, much favoured by walkers of all nationalities, makes it an ideal location for a walking holiday with the added bonus of a touch of luxury to return to. For those who enjoy walking in like-minded and convivial company and who value the guidance of someone very familiar with the local trails a guided week is often more enjoyable than going it alone.

Ghislain will again be leading the walks himself as not only is he familiar with the tracks and paths around Faralya but he also has a deep understanding of the local customs and culture. On some days there may also be an assistant leader in the shape of Pacha, Mandarin's resident dog who is equally familiar with the terrain.

This experience will not only enable you to discover some of the most beautiful landscapes of this part of the world but also to learn more about rural life in Turkey and to visit some of the lesser known archaeological sites.

The holiday is offered on a half-board basis with a traditional Turkish breakfast and Mandarin & Mango's delicious five-course dinner. En route you can enjoy a picnic or barbecue lunch or a meal in a simple Turkish eaterie, all payable locally.

Some days will be spent walking in the immediate area, others exploring a little further afield and some following parts of the Lycian Way and a minibus will be used to transport you whenever necessary. A reasonable level of fitness and sturdy walking boots are required but the week's routes are designed to allow you to enjoy the countryside at a fairly leisurely pace and not to test your endurance.

This holiday can be extended by a second week for those who want to spend time relaxing at Mandarin. Partners/travelling companions not wishing to join the walks can stay at Mandarin at the standard package price without the £90 walking tour supplement.


Itinerary
Monday: Arrival at Dalaman airport, transfer to Mandarin & Mango and informal welcome dinner to get to know your hosts and fellow travellers.

Tuesday: Transfer to Kaya for full-day walk through this fertile valley to Afkule with its Byzantine Monastery. Barbecue/picnic above Turunc Bay (payable locally).

Wednesday: A walk through the valleys of Faralya (part of the Lycian Way) and down to Kabak beach, with optional lunch stop in a simple local restaurant.

Thursday: Walk from Faralya to Kirme, returning via another section of the Lycian Way.

Friday: A free day to relax and enjoy Mandarin & Mango's facilities or visit the lagoon at nearby Oludeniz.

Saturday: A short drive to Uzumlu, famous for its grapes, then a walk up to the atmospheric archaeological site of Cadyanda.

Sunday: Drive up to Alinca and walk down to Faralya along part of the Lycian Way, before returning to Mandarin & Mango for your farewell dinner.

Monday: Return transfer to Dalaman Airport for your flight home.

The itinerary is subject to change according to local conditions


Price includes:
Return flights from Gatwick to Dalaman (regional flights at a supplement).
Accommodation at Mandarin & Mango on a half board basis.
Five full-day walking excursions with transfers where required