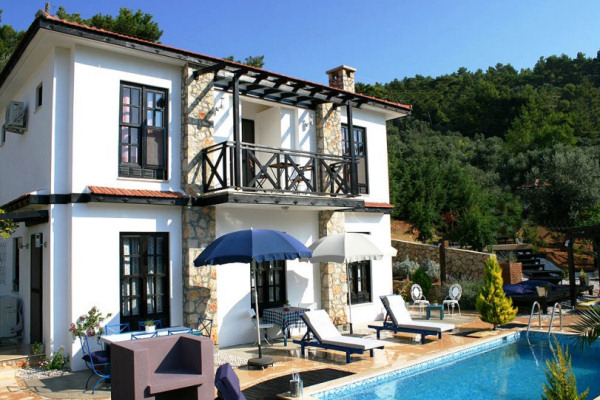 Villa Koknar
An ideal villa for families wishing to be close to the popular resort of Kalkan, whilst staying in more rural surroundings
3-bedroom Villa for 2-6 people
Self-Catering
Private swimming pool
Air-conditioning
Car hire included
For those who enjoy strolling along Kalkan's bustling harbour front, browsing the quirky shops in its picturesque cobbled back lanes, and dining in its charming rooftop restaurants, but who prefer staying in more rural surroundings, the traditional village of Islamlar offers the perfect solution. Situated just a 15-minute drive from Kalkan and all its attractions, Islamlar retains a much slower pace of life, and even a different climate, as its elevated setting in the foothills of the Taurus mountains ensures comfortable temperatures even in the height of summer. The surrounding landscape is verdant, fed my mountain springs which also supply the key ingredient for the authentic restaurants that have made the village a popular lunch destination for locals and visitors alike: fresh trout.

Standing just over a mile from two of the most popular of these restaurants, Villa Koknar offers spacious accommodation for up to six people. On the upper floor there are three bedrooms, all with air-conditioning. The master bedroom has a double bed and an en-suite shower room, and there is another shower room to serve the other two bedrooms (another double and a twin). From the landing, there is access to a balcony with lovely views across the pool and garden. A third shower room is conveniently situated on the ground floor, together with the air-conditioned living room and the spacious kitchen-dining area. The former benefits from a flat-screen TV, CD and DVD player, whilst the latter is fully equipped with a large fridge-freezer, a full-size cooker, a washing machine, a dishwasher, a microwave and a complete range of utensils. A door leads out into the garden, where you will find a built-in barbecue and several terrace areas - some sunny, some shaded - so there is no shortage of options for relaxing by the pool and enjoying the serenity of your surroundings.

Using the hire car that is included in your holiday at Villa Koknar, you can not only reach Kalkan easily, but also one of Turkey's best beaches: the vast sandy shores of Patara, backed by impressive dunes and an interesting archaeological site. To the other side of Kalkan lies the small but popular cove of Kaputas, and - a little further along the coast - the charming harbour town of Kas and the submerges ruins of Kekova.

Other Accommodation in Kalkan, Kas and Patara
Other Areas in Turkey
Our Other Destinations