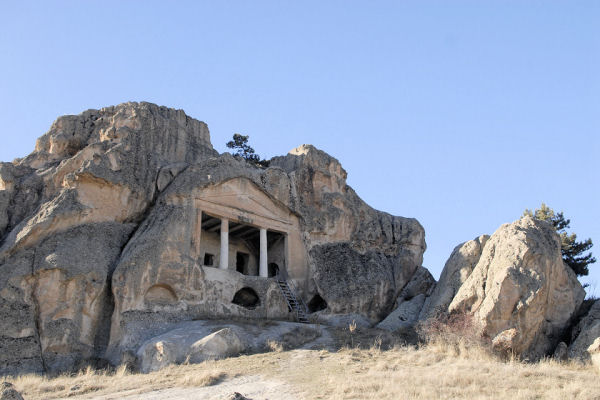 A Journey through Western Anatolia
12-night escorted holiday
Dates and Prices:
15 - 27 April 2020: £1889 per person (Single Supplement £315)

Minimum/Maximum Group Size: 4-8 people
This 12-night holiday is ideal for guests who not only wish to combine a visit to the bustling metropolis of Istanbul with a few nights' relaxation on Turkey's beautiful south-west coast, but but who would prefer to travel from the city to the coast overland, without having to drive themselves, taking in a number of fascinating historical sites on the way.

Istanbul's attractions are so diverse that we felt it best to leave your three nights here free for you to spend your time according to your own particular interests; all the main sites and the most appealing districts for eating and drinking are easily reached from your central base in the city's historic Sultanahmet district.

Together, we then travel south by minibus through the ancient kingdoms of Phrygia, Pisidia, Caria and Lycia, visiting some of the country's lesser-known (but by no means less impressive or fascinating) archaeological sites en route. We finish off with six nights on the Lycian coast, where excursions to some of the local sites are alternated with days at leisure to relax and unwind.


Itinerary
Day 1: Flight to Istanbul and transfer to your hotel in the historic Sultanahmet district of the city.
3 nights' accommodation on B&B basis at Hotel Celal Sultan.

Days 2 & 3: A chance to independently explore the countless sites and attractions of this vibrant city, such as the Blue Mosque, St Sophia and the Grand Bazaar, at your leisure.

Day 4: Transfer from the hotel to Pendik train station for the high-speed train to Eskisehir in western Anatolia (approximately 3 hours). Here, you will meet with your minibus driver and tour guide. Transfer to your hotel in the Old Town and afternoon sightseeing.
2 nights' accommodation on B&B basis at Arslanli Konak Hotel.

Day 5: Visit by minibus to Gordium, the capital city of the ancient Kingdom of Phrygia, which during its heyday in the 8th and 9th century BC controlled much of Asia Minor. The city was founded by Gordias, father of the legendary King Midas, and inventor of the Gordian knot which was finally famously undone by Alexander the Great in 333 BC. A highlight of the day is a visit to the Great Tumulus, King Gordias's 50-metre high burial mound which was excavated in 1957, yielding an extensive array of remarkably well preserved objects.

Day 6: We drive south through the Phrygian valley, where we visit further burial mounds and rock tombs, to Sagalassos. Once one of the richest cities in Pisidia, Sagalassos thrived through the Hellenistic, Roman and early Byzantine eras but was devastated by earthquakes in the 6th and 7th centuries AD. Set on the slopes of a mountain, the extensive remains of the city are as impressive for their views as for their historic significance.
Overnight accommodation on half-board basis at Sagalassos Lodge & Spa Hotel.

Day 7: We head south to Kibyra, arguably one of Turkey's most impressive and yet least visited archaeological sites, with remains including 9,000-seater theatre and a spectacular 200-metre long stadium. One of the most important finds, still undergoing restoration after its discovery in 2009, is an 1,800-year old, 11-metre marble mosaic of the head of Medusa covering the floor of the city's odeon, whilst even more recently, a Roman bath covering 5,400 square metres has been uncovered. From here, we continue towards the coast near Fethiye, where we reach our base for the remaining part of the holiday in time for dinner.
6 nights' accommodation on half-board basis at Mandarin & Mango Boutique Hotels.

Day 8: Free day to visit the beach in Oludeniz, shop in Fethiye's butling market, explore the surrounding countryside on foot or simply relax and enjoy Mandarin's facilities.

Day 9: Full-day excursion to the ancient sites of Xanthos and Letoon, the stuning gorge at Saklikent and Patara with its archaeolocial site situated next to one of the region's best and most unspoilt beaches.

Day 10: Another day at leisure.

Day 11: Full-day excursion to Demre (ancient Myra), the legendary birthplace of Father Christmas (or rather Saint Nicholas), with a boat trip to the Sunken City of Kekova.

Day 12: A final day at leisure. Farewell dinner in the evening.

Day 13: Transfer to Dalaman for your flight home via Istanbul.


Price includes:
Scheduled return flights from Heathrow or Gatwick to Istanbul and domestic flights as specified (flights from Manchester, Birmingham or Edinburgh at a supplement).
Railfare from Istanbul to Pendik.
Five nights' accommodation on a bed-and-breakfast basis and seven nights' on half-board basis, as per the above itinerary
All transfers and excursions by taxi or air-conditioned minibus as per the above itinerary

To book, please call us on 020 8847 8700 or contact us by email.