Kythira
To call an island one of Greece's best-kept secrets may seem like hyperbole, but we feel that it's an apt description for the island of Kythira which lies off the south-eastern tip of the Peloponnese. Kythira boasts all the attractions we adore about Greece - beautiful beaches, picturesque villages, rewarding country walks and a smattering of historical sites - and yet remains virtually unknown amongst international holidaymakers. In the peak of the summer season, the island attracts its share of visitors from the Greek mainland alongside Italian tourists and a significant contingent of Greek-Australians returning to the island of their forefathers, but there are no mass-market resorts or large-scale developments, and both the unspoilt physical environment and the relaxed pace of life are reminiscent of the Greece of fifty years ago.

The island's location between the Greek mainland and the western tip of Crete has been of strategic importance since ancient times, and amongst the civilisations that left their mark were the Minoans, Phoenecians, Myceneans, Laconians, Spartans and Athenians. Kythira and her smaller neighbour Antikythira fared less well during the Hellenistic and Roman periods and became largely deserted until the fall of the Byzantine state, when they came under Venetian rule alongside the Ionian Islands. Following a period under French rule, the island was ruled by the British for much of the 19th century until joining the modern Greek state in 1864. Together with her chequered history, Kythira's political affinity with the Ionian in spite of her geographical proximity to the Aegean has given the island a unique feel, displaying architectural styles and cultural traits from a variety of regions, from Cycladic-looking villages with whitewashed houses tumbling down the hillside to Venetian mansions and British school houses.

The island measures roughly 30 km from north to south and about 18 km across at the widest point, its rugged terrain rising to just over 500 metres above sea-level at the highest point. With a resident population of less than 4000 people, Kythira has no towns of any size, but there are 64 small villages and hamlets, and over 300 churches, many dating back to Byzantine times, as well as several monasteries. The administrative capital, Chora, is perched on a hilltop in the south of the island, dominated by an impressive Venetian castle and blessed with panoramic views out to sea and to the rocky islet of Hytra, renowned for its sea cave. Chora's quaint alleyways contain a handful of enticing cafés and tavernas, craft and book shops as well as a small archaeological museum and a folk art collection.

As the island was often threatened by pirate attacks, only five of its villages are situated on the coast. Originally the port of Chora, Kapsali is now a small beach resort set on twin bays of sand and pebble separated by a rocky promontory with a pretty lighthouse. There is a decent range of shops and tavernas, and in the second bay there is a small fishing harbour. During the summer season, sunbeds and umbrellas can be rented on the beach, and a selection of watersports are offered, as are boat trips to the isle of Hytra to swim inside its stunning cave (the island itself is not accessible). It is hard to decide which view is more beguiling - looking up from Kapsali towards Chora and the castle, or down from Chora's Belvedere across Kapsali's picturesque bay.

Today, the only ferry port is at Diakofti on the island's eastern tip, which is also known for its large shipwreck, and for boasting one of the island's finest sandy beaches lapped by clear shallow waters. To the south of Diakofti lies Avlemonas, a small village picturesquely set around two sheltered rocky coves, one of which is known locally as "the pool", with access for swimmers provided by rocky platforms and ladders. A long shingle beach lies a short walk west at Paleopolis, whilst just south of the village you can explore a small Venetian fortress. The island's largest resort, Agia Pelagia, is situated on the northeast coast along a long, predominantly sandy beach, which is backed by a good selection of cafés and tavernas. A number of small hotels and several clusters of private holiday homes are attractively set on the surrounding hillsides, and the beach is serviced with sunbeds, parasols and some watersports during the summer season, but compared to most resorts on the better-known islands, the atmosphere remains wonderfully laid-back and relaxed. A little further north you will find the smallest and sleepiest of Kythira's seaside villages, Platia Ammos, with just a couple of tavernas and a beautiful sand-and-pebble beach, perfect for those seeking a real away-from-it-all escape.

In addition to the aforementioned village beaches, there are another thirty or so other beaches dotted around the rugged coastline. Some of these have a simple kantina and maybe some sunbeds in the season, whilst others are virtually untouched, and only half of them are accessible by road, so those prepared to put in a little effort can find their own private spot even in the height of the season. Those who enjoy exploring on foot can combine a rewarding hike with a refreshing swim, for instance by descending through one of Kythira's many gorges from the village of Livadi to Komponada beach in the east, walking past the old monastery of Saint Kosmas to the sandy cove of Melidoni in the south, or hiking from Kapsali via the stunning chapel inside the cave of Agia Sophia at Kalamos to the popular beach at Chalkos. Slightly confusingly, there is another Agia Sophia cave in the west of the island, which is worth visiting for its stalactites, stalagmites and 700-year old frescoes. Other attractions in this area include Mylopotamos, considered one of the island's most beautiful villages, the Neromiloi gorge with its old watermills, the Neraida waterfall (depending on rain fall levels), the cliff-side monastery of Panagia Orfani and the isolated beach of Kalami, although the latter can only be accessed by a fairly challenging hike. Keen walkers can enjoy exploring Kythira's hinterland in depth, thanks to a network of way-marked hiking trails developed by the Paths of Greece organisation.

One of the factors keeping Kythera so unspoilt is the lack of any international flights, with just two weekly charters (one from Amsterdam, the other from Prague) during the summer season. Scheduled flights from Athens operate up to twice a day in the high season, though less frequently in spring and autumn. From Gatwick or Heathrow, we can usually arrange flights to Athens with onward domestic flights on the same day. Connections via Athens can also be arranged from regional airports including Luton, Stansted, Bristol, Birmingham, Manchester and Edinburgh, but these may require either an overnight flight or a stop-over in at least one direction. You may of course decide to treat this as an opportunity rather than a necessity by breaking your journey with a few nights in Athens to explore this vibrant city and her countless cultural attractions. Another possibility for those keen on a two-centre holiday is to combine your visit to Kythira with a stay on Crete, as ferries run up to three times a week from Diakofti to the port of Kastelli/Kissamos in Crete's north-west corner. All our holidays are tailor-made, so we'll be happy to discuss possible options with you.

Then again, Kythira herself has more than enough on offer to merit spending your entire holiday here, and in our opinion strikes just the right balance for a perfect Greek island escape: small enough to feel friendly and welcoming, yet large and diverse enough to be interesting; remote enough to remain traditional and unspoilt by mass tourism, yet relatively accessible with the help of a good travel company!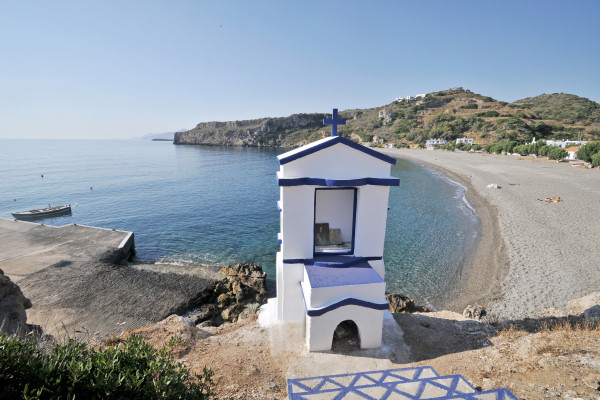 Accommodation in Kythira:
Please zoom in and click on the markers, or scroll down for a list of accommodation.
Other Areas in Kythira
Our Other Destinations