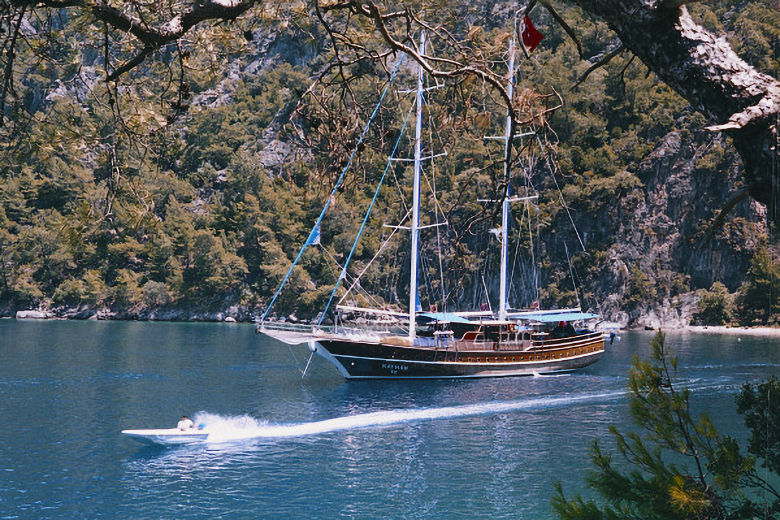 Cruising the Turquoise Coast
Traditional Gulets for 4-20 people
Air-conditioning
Full Board
It is hard to imagine a more relaxing holiday than one aboard a traditional Turkish gulet as it sails or motors along the magnificent Turquoise coast. Days are spent in unashamed indolence and indulgence as the crew take care of everything and present you with three delicious meals and as many drinks as you care to order from the reasonably priced bar. The major daily decisions are whether to swim, snorkel or windsurf, go ashore and visit an inviting archaeological site or pretty beachside village or just drift and dream on your comfortable deck mattress.

We have teamed up with Alesta Yachting, whose fleet of gulets offers superior levels of comfort and space, and experienced crews dedicated to ensuring that you and your party will have the holiday of a lifetime.

The cruises are for one or two weeks, starting and finishing at Fethiye. On the following page, you will find four suggested sample itineraries to give an indication of the possibilities, but part of the fun of the gulet cruising experience is the flexibility to change your plans as and when you feel like it, subject of course to practical and safety concerns (such as weather conditions, currents and prevailing winds), over which your captain will have the final say.

In order to allow this flexibility, and because we believe that gulet cruising is an intimate experience that should best be enjoyed in the company of good friends and close family, we only arrange gulet cruises as whole-boat charters. With the exception of the crew – who are there for your comfort, safety and culinary requirements – your boat will therefore be yours and yours alone for the week or fortnight you have booked.

With vessels ranging from 3 to 10 cabins (all with en-suite showers and WCs), we can cater for groups of between 4 and 20 people and for floor plans and technical data of the individual gulets, please refer to our Information insert. Each gulet has a communal lounge with TV, a dining area and a galley where your crew prepare the meals, using fresh fish and seafood amongst other local produce (if you have any special dietary requirements, please advise us at the time of booking).

Naturally, most guests choose to spend their time on deck, relaxing on mattresses and watching the beautiful coastline slowly drifting past. When anchored in one of the countless bays, you can make use of the boat's fishing equipment, enjoy a spot of wind-surfing, or be ferried to the shore by dinghy. Those wishing to up the pace a little can choose to incorporate one of the larger ports in their itinerary for some serious shopping, a spot of sightseeing or maybe even to sample the local nightlife. Whatever your interests, a cruise on a traditional gulet allows you to enjoy them at the most leisurely and relaxing of paces.


What to expect and what to bring?
Life on board a gulet is relaxed to the extreme. The crew are there to look after both the boat and its passengers, leaving you free to enjoy the experience. The routes we have planned may vary slightly according to the time of year that you wish to travel and those booking early will have a better choice of route. Wherever possible we will vary the routes to comply with any special wishes but the captain will have the final discretion, depending on weather conditions. All your meals are prepared and served by the crew, with the exception of one dinner per week on their night off (the final night of the week). The crew also operate a well stocked and reasonably priced bar on board and it is usual for guests to use this facility rather than rely totally on their own limited duty frees. Please remember to advise us of both your dietary and liquid requirements well in advance and we will do our best to ensure that you are properly catered for. As storage space on board is limited it is advisable to bring as little luggage as possible, packed in soft bags. Dress is casual in the extreme and swimwear and shorts are generally the order of the day, although in the cooler months you may wish to pack a sweater for the evenings. If you are spending part of your holiday on land we suggest that you pack two bags and we will store one safely for you whilst you are cruising.

Please click here for specifications of Alesta Yachting's Gulets.




Suggested Itineraries:
Itinerary 1: Fethiye - Marmaris - Fethiye (1 week)
Day 1: Transfer from the airport to Fethiye and board your gulet. Sail to Sarsala for your first night on board.

Day 2: Cruise past the beautiful coves of the Bay of Gocek to Yassicalar where you will drop anchor. Overnight at Aglimani.

Day 3: Cruise to Ekincik. Optional trip to Dalyan and Caunos where you can take a river boat to visit the ancient tombs and take a therapeutic mud-bath. Overnight at Ekincik.

Day 4: Cruise to Kumlubuk for lunch and a swim before arriving in Marmaris for dinner and overnight.

Day 5: After breakfast at Gobun you will stop for lunch and swim in Hamam Bay where you can see the ruins of Cleopatra's Bath. Overnight at Bedri Rahmi Bay.

Day 6: Breakfast at Oludeniz. Continue to Gemiler Island where you will explore the Byzantine ruins, including those of a church dedicated to St Nicholas. Overnight at Gemiler.

Day 7: Cruise to Aquarium Bay for breakfast before visiting other pretty spots in the Gulf of Fethiye, including lunch and a swim in Turunc bay. Overnight in Fethiye harbour.

Day 8: Return to Fethiye Harbour, and transfer back to the airport.


Itinerary 2: Fethiye - Kekova - Fethiye (1 week)
Day 1: Transfer from the airport to Fethiye harbour where you will board your gulet.

Sail to Yassicalar Island for your first night on board.

Day 2: Cruise from Yassicalar Bay to Yesilkoy Island, where you can swim in the clear waters of the olive tree lined bay. Overnight at Limanagazi Island.

Day 3: From Limanagazi Island to Gokkaya Bay, where you will see the underwater ruins of the homes of ancient civilisations. Overnight in Gokkaya Bay.

Day 4: From Gokkaya Bay to the Sunken City of Kekova and Kale. Overnight at Cankurtaran Island.

Day 5: From Cankurtaran Island to Salyangoz Bay. Overnight at Almankoyu Island.

Day 6: From Almankoyu Island to Kas, and onwards to Kalkan. Overnight at Yesilkoy Island.

Day 7: From Yesilkoy to Oludeniz. Sail after lunch to Gemiler Island. Overnight at Ruzgarli Island.

Day 8: Return to Fethiye Harbour, and transfer back to the airport.