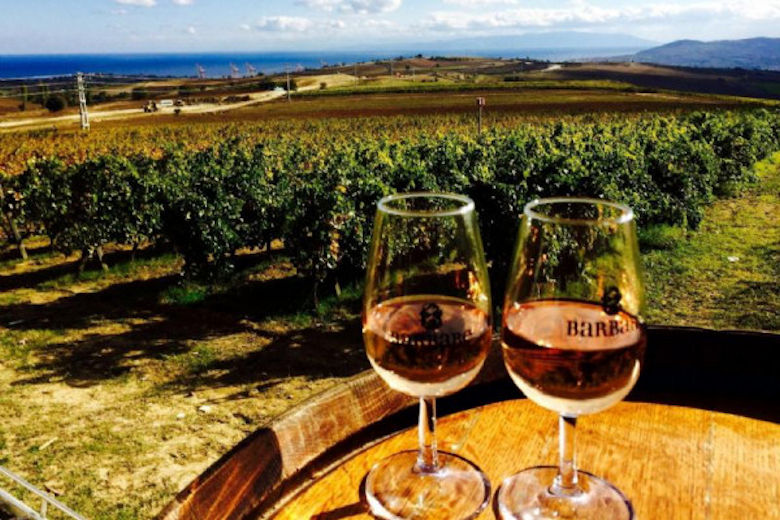 The Vineyards of Thrace
15-night holiday
Dates and Prices:
2 to 17 September 2022: £3195 per person (Single Supplement £1470)

Discover one of the oldest wine-growing regions in Europe and sample Turkey's finest wines on this unique exploration of Thrace in north-west Turkey, before heading south via Gallipoli and Pamukkale for a relaxing stay on the Turquoise Coast.
Itinerary
Day 1; Friday 02 September:

Flight to Istanbul. Transfer to your hotel and stay overnight on BB Basis

Day 2; Saturday 03 September:

Travel from Istanbul to Edirne (254km, approx. 3h30m). Stay on BB Basis

Day 3; Sunday 04 September:

Travel from Edirne to Vino Dessera (degustation & lunch) (71km, 1h). From here we continue to Arcadia (35km, 34min) and overnight in Bakucha Vineyard Hotel situated in Arcadia vineyards. Stay on BB Basis

Day 4; Monday 05 September:

Travel from Arcadia to Chamlija vineyard (44km, 46min), and after a stop there continue to the historic village of Kiyikoy on the Black Sea coast (72km, 1h15min), where we stay overnight on BB Basis

Day 5; Tuesday 06 September:

From Kiyikoy we travel to Chateau Nuzun (degustation) (86km, 1h43min). From there we continue to Barel vineyard (20km), and then on to Barbare vineyards (31km, 28min). Overnight in Barbare vineyards at Barbaros Bag Evi. Stay on FB Basis (breakfast, lunch, dinner, degustation, winery visit, soft drinks & unlimited Barbare wines is included)

Day 6; Wednesday 07 September:

From Barbaros we travel to Chateau Kalpak (99km, 1h20min) and on to Porta Caeli (85km, 1h10min). Overnight at Hotel Caeli vineyards on BB Basis with degustation

Day 7; Thursday 08 September:

We explore Porta Caeli and the Gallipoli peninsula, and visit the neighbouring vineries of Asmadan (degustation) and Suvla winery. Stay at Asmadan winery's Hotel Bengodi in Eceabat on BB Basis

Day 8; Friday 09 September:

We travel south from Eceabat to the old coastal town of Ayvalik (180km, 3h20min). Stay on BB Basis

Day 9; Saturday 10 September:

We continue from Ayvalik to Pamukkale (331km, 4h) where we visit the famous travertine terraces. Stay on BB Basis

Day 10; Sunday 11 September:

We travel from Pamukkale to Faralya (222km, 3h45min), visiting the ancient ruins of Hierapolis and Cleopatras pool along the way, before arriving at Mandarin & Mango Boutique Hotel where we will be based for the remainder of the trip. Stay on HB Basis

Day 11, Monday 12 September:

Full day at leisure for complete relaxation at Mandarin & Mango… Stay on HB Basis

Day 12; Tuesday 13 September:

Another day at leisure. You can visit the Fethiye market for some "genuine fakes", go for a hike along the Lycian way, or enjoy a swim in the Mediterranean. Stay on HB Basis

Day 13; Wednesday 14 September:

Another day at leisure, perhaps time for a Turkish bath and traditional massage? Stay on HB Basis

Day 14; Thursday 15 September:

More leisure time to spend as you please. Stay on HB Basis

Day 15; Friday 16 September:

A final day at leisure to enjoy the facilities at Mandarin & Mango and the beautiful natural surroundings. Stay on HB Basis

Day 16; Saturday 17 September:

Fly home from Dalaman Airport (or extend your stay at Mandarin if you wish).
Price includes:
Scheduled flights from Heathrow or Gatwick to Istanbul and return from Dalaman via Istanbul. Regional departures on request and at a supplement.
15 nights' boutique hotel accommodation
Daily breakfast
8 dinners of 5 courses each
1 lunch, degustation soft drinks and unlimited wine at Barbare
Arrival transfer from Istanbul airport to hotel and return transfer from hotel to Dalaman airport
Transfer from Istanbul to Edirne
Minibus and driver during the trip from Istanbul to Faralya.
Not included:
Any tips to guide/interpreter, driver, baggage handlers, housekeepers
Entrance fees to archaeological sites
Lunches where not mentioned
Drinks during lunch and dinner where not mentioned.

To book, please call us on 020 8847 8700 or contact us by email.