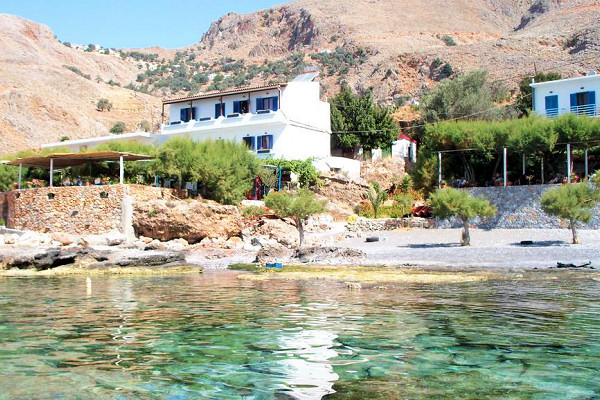 Akrogiali Rooms
A simple seafront retreat in a traffic-free bay on Crete's unspoilt south-west coast, offering authentic Cretan cuisine and hospitality and access to beautiful coastal and mountain walks.
Family-run pension with 16 rooms
Bed & Breakfast
Air-conditioning
Transfers included
The south coast of western Crete remains one of the least developed coastal stretches of the island, with its ruggedly mountainous hinterland rendering most of the bays between Paleochora and Hora Sfakion all but inaccessible by car. This makes the region immensely appealing not only for those who love swimming in unspoilt coves and relaxing on remote beaches, but also for keen hikers who can explore imposing mountains cut through by deep gorges and - in the spring - an abundance of wildflowers. In fact, the only major thoroughfare along this stretch of coast is a section of the E4 European long-distance hiking trail.

Reached by a regular boat service from Hora Sfakion, the picture-postcard village of Loutro has long been popular with travellers seeking a traditional Greek seaside holiday in an environment free from traffic or the trappings of mass tourism. However, those keen to get even further off the beaten track should consider the little bay of Lykos. Situated around the headland from Loutro, approximately 1 km west as the crow flies, the rocky shore at Lykos is home to just two tavernas, each also offering a number of simple guest rooms. Our choice is the Akrogiali, a charming family-run taverna on the waterfront, serving authentic Cretan cuisine prepared from the family farm's own produce, including organic outdoor reared lamb and goat, sheep and goat's milk products, seasonal fruit and vegetables and fresh fish caught locally by hand.

Akrogiali's 16 guestrooms are divided between two small two-storey buildings. As befits their wonderfully uncommercialised setting, Superior Rooms are simply furnished but well maintained, and each has a small en-suite shower room (with solar-powered water heating) and sea-facing balcony or terrace with a table and chairs for admiring the views over a glass of local wine. Deluxe Rooms have recently been refurbished in a smart, more contemporary style and also benefit from air-conditioning. Cachet Travel guests have breakfast included in the cost of their stay.

To reach Lykos, we provide a transfer from the airport to the small port of Hora Sfakion and from there you travel to Loutro on the small ferry. Akrogiali's owners will then collect you and your luggage in Loutro with their motorboat. Should you occasionally fancy a change of dinner venue, or require something from the shops, Loutro can be reached on foot by the reasonably fit in around 20 minutes, walking over the headland. Just to the east of Lykos you pass another small bay, with a sheltered pebble beach and another taverna. The beach at Lykos itself is mainly rocky, so jelly shoes are worth bringing, but the sea is wonderfully clear and perfect for snorkelling. There are various other beaches that can be reached on foot, including the beautiful Marmara beach set at the base of the Aradena gorge. Unlike the famous Samaria gorge a little further to the west, the Aradena gorge is scarcely known amongst tourists and never gets busy; guests staying at Akrogiali can explore it on a day's circular walk via the hill village of Anapoly.

Whilst Akrogiali will not suit those who seek luxury, sophistication or any form of organised entertainment, it is a perfect choice for those wishing to enjoy life's simple pleasures in an unspoilt and truly relaxing setting.

Interactive Map
Please use the controls on the map to zoom in and out,
or move the map with your mouse.
Other Accommodation in South-West Crete
Other Areas in Crete
Our Other Destinations