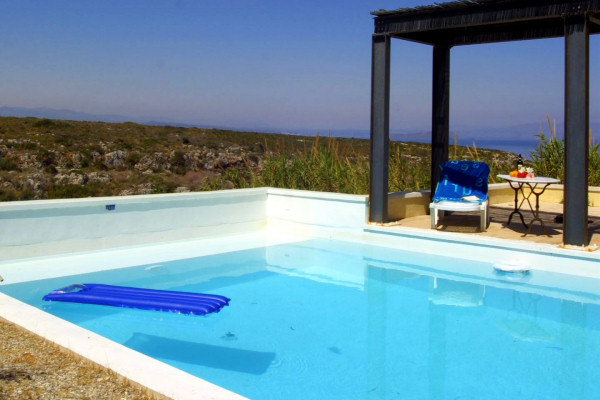 Alma's Villas
As well as each boasting their own small private pools, the eight terraced villas making up this complex share a larger communal pool where you can socialise with your charming hosts and fellow holidaymakers.
8 Villas with 2 or 3 bedrooms for 2 - 7 people
Self-Catering
Private swimming pools plus communal pool
Air-conditioning
Car hire included
With its lovely sandy coves and easy accessibility to Chania, the Akrotiri Peninsula has always been a popular choice amongst our guests, so we are delighted to be able to offer this cluster of eight villas, each with its own small swimming pool. Standing on a hillside adjacent to a small gorge, the situation feels wonderfully rural, yet Chania's bustling centre is just a 20-minute drive away, and it is less that 5 minutes by car to the village of Kounoupidiana, which boasts a selection of tavernas and a range of useful shops. Closer still is the sleepy coastal hamlet of Agios Onoufrios with its sheltered sandy cove - home to small fishing boats - and a couple of charmingly unpretentious tavernas.

Arranged in two terraces on either side of a central vegetable garden, the villas are functional from the outside, but the design is deliberate so that nothing detracts from the views, which can be observed through panoramic windows. The interiors are contemporarily and simply furnished with a light and airy feel and there is a choice of split-level villas with two bedrooms, and single-storey villas with three bedrooms. Each living room has a modern metal and glass fireplace, an attractive feature especially in early or late season, although the air-conditioning units can also provide cooling or additional heating when required, making the property suitable for those wishing to visit Crete in the winter months. The open plan kitchens come equipped with a full range of appliances, including a hob, a small oven, a microwave, a fridge and a dishwasher. A washer/dryer is provided in each villa's bathroom, along with a rather indulgent jacuzzi bathtub, and the three-bedroom villas have an additional shower room. Another thoughtful touch is the provision of bathrobes and pool towels.

Not only does each villa have its own private pool (with no shallow end), there is also a large pool for communal use overlooking the gorge and the bay. Here, guests have the opportunity to meet not only their fellow holidaymakers, but also their host Alma and her charming family, who live on site and arrange occasional barbecues or other culinary treats.

Always happy to chat to her guests, Alma is an excellent source of local information and will gladly advise on some of the rewarding walks and drives in not only the surrounding area but most of the island. For those who relish the privacy of having their own pool, yet also enjoy a dose of authentic Cretan hospitality, Alma's Villas offer an irresistible combination.

Interactive Map
Please use the controls on the map to zoom in and out,
or move the map with your mouse.
Other Accommodation in Chania and the North-West
Other Areas in Crete
Our Other Destinations