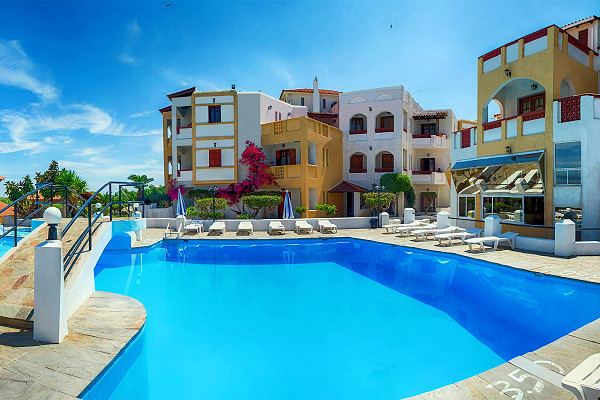 Anema by the Sea
Situated close to the beach and harbour in the attractive and authentic town of Karlovassi, Anema by the Sea offers a very friendly welcome and generous dose of traditional Greek hospitality
Aparthotel with 55 studios
Bed & Breakfast
Swimming pool
Air-conditioning
Transfers included, or reduced car hire rates
Free WiFi in public areas
For a relaxing seaside holiday with all the facilities of a small town - but none of the superfluous trappings of mass-market tourism - on your doorstep, this family-run aparthotel would be hard to beat. With a population of just under 6,000 people, Karlovassi is the island's second largest town after Vathi (Samos Town), with a wide choice of local eateries and all the shops you are likely to need on a day-to-day basis. The town boasts an attractive square, several pretty churches and chapels, as well as neoclassical mansions bearing witness to the town's heyday as a tannery and tobacco manufacturing centre at the start of the 20th century, as do the evocative ruins of the handsome old stone warehouses near the waterfront.

As it's name implies, Anema by the Sea stands close to the shore, just 500 metres from Karlovassi's small port, home to the local fishing fleet and to the occasional arrival and departure of inter-island ferries. Anema is owned and run by Toula and her husband Diamanti, a very friendly and welcoming couple who together with their team take great pride in making their guests feel thoroughly at home and helping them to get the most of their time on Samos.

Anema comprises 55 studios in a cluster of buildings set around a central swimming pool. Offering simple, cosy accommodation, the studios are well maintained and kept spotless, and benefit from air-conditioning. Each has an en-suite shower room, a balcony or terrace and a small kitchenette unit with a two-ring hob and a fridge for basic self-catering. WiFi is available free of charge in some areas of the complex.

Whilst the kitchenettes come in handy for keeping your drinks cool and fixing the odd light snack, our holidays here include a daily buffet breakfast which includes homemade jams and seasonal produce from Anema's own garden. Should you choose to wile away your days by the swimming pool, a pool bar is on hand to keep you supplied with refreshments, whilst for dinner, there could be few venues more enticing than Anema's own seafront taverna, Meltemia, especially if you time your meal to coincide with the sunset. There are several other restaurants that can be reached on foot, making this a good choice for those who like to dine around, but it's handy to know that the nearest enticing dinner venue is just a few metres away, especially if you have spent the day touring the island.

For those keen to explore Samos in depth, we offer reduced car hire rates if you collect your car on arrival at the airport, but even without a hire car, Karlovassi is a good place for exploring. There is a regular bus service along the north coast to Samos Town, and keen walkers will find several picturesque hill villages in the surrounding area. The local pebble beach - just across the road from the accommodation - is perfectly adequate, but for a picture postcard view, a half-hour walk west will bring you to Potami, undoubtedly one of the island's most photogenic beaches, close to which you will also find the Byzantine chapel of Metamorphosis and the rather refreshing Potami waterfalls.

Interactive Map
Please use the controls on the map to zoom in and out,
or move the map with your mouse.
Other Accommodation in Samos
Our Other Destinations