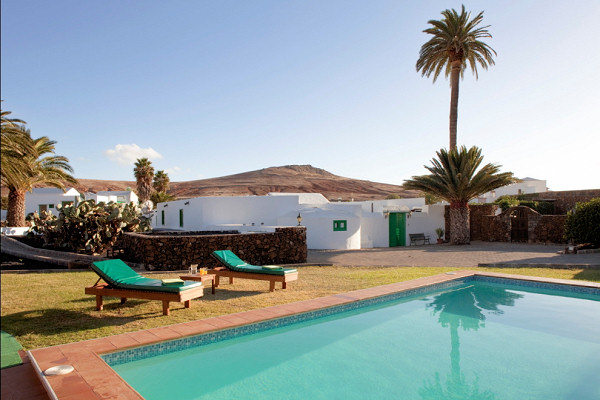 Casa Catalina I & II and El Aljibe
A large farmhouse converted into three charming and comfortable holiday homes, offering versatile accommodation for couples, families and larger parties with the added bonus of a heated swimming pool
3-bedroom villa for 2-6 people plus two x 1-bedroom cottages for 2 people
Self-Catering
Swimming pool (heatable in winter)
Air-conditioning
Car hire included
Free WiFi
Standing in the sleepy agricultural village of Los Valles, Casa Catalina belongs to the same owners as Casa Barranco and was converted with the same flair and attention to detail. Combining rustic charm with up-to-date creature comforts, this superbly restored 200-year old farmhouse offers versatile accommodation for couples, families and larger parties. The rambling main house has been split into two sections: Casa Catalina I has three bedrooms and can sleep up to six people, although for smaller parties it can also be rented as a two-bedroom villa (with the 3rd bedroom locked). Casa Catalina II is an extremely spacious one-bedroom property for a couple, whilst set apart from the main house, El Aljibe is a truly stunning split-level property created from the finca's old water-storage cistern.

Between them, the three properties share a heated swimming pool, surrounded by a lawn and bordered by a partially shaded terrace with wooden sun-loungers. There is also a communal barbecue area by the pool. The finca is ideal for family reunions or other parties of up to 10 people, but the houses are also suitable for being rented separately.

From a shared courtyard, a door on the left leads to a large sunroom which forms the hub from which all the accommodation in Casa Catalina I is accessed. A small corridor leads through to the living-dining area, with patio doors leading onto a pretty terrace with country views, and an archway leading through to a very well-equipped kitchen complete with fridge-freezer, hob, oven, dishwasher, kettle, toaster and coffeemaker. In addition, there are three bedrooms and two bath or shower rooms. Casa Catalina II is also entered through a large sunroom, which is separated from the sunroom of Catalina I by a glass wall with curtains. Its living-dining room is unusually spacious for a one-bedroom property, and the kitchen is equipped to the same standard as the other half of the house, but does not have a dishwasher. Both parts of Casa Catalina benefit from heating/air-conditioning, and each house has satellite TV (limited English-language channels) with DVD players and free WiFi.

For honeymooners and anyone else seeking unique holiday accommodation with a genuine wow-factor, El Aljibe would be hard to beat. Restored from a 200-year old water reservoir, this cavernous space with its natural rock walls and stone arches is wonderfully atmospheric, enhanced further by hand-crafted furnishings, cleverly designed lighting and remarkable paintings and sculptures. The bedroom is on an open mezzanine level and has two double beds, with the comfy living area on the main floor below. A shower room and a well equipped kitchen with fridge, hob, oven, kettle and toaster complete the accommodation. Satellite TV (limited English-language channels), DVD player and WiFi access are also provided, and the surround-sound system makes the most of the property's unique acoustics. As the thick rock walls moderate the inside temperature naturally, there is no air-conditioning in El Aljibe. In addition to sharing the use of the heated pool with Casa Catalina, El Aljibe also has its own terrace with a private hot tub., making this the perfect retreat for romantic couples.

Interactive Map
Please use the controls on the map to zoom in and out,
or move the map with your mouse.
Other Accommodation in Lanzarote
Other Areas in The Canary Islands
Our Other Destinations