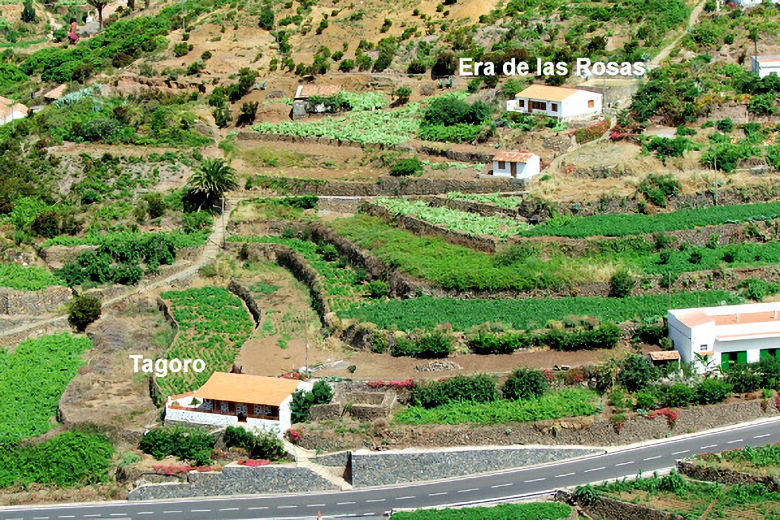 Casas Tagora and Era de las Rosas
Two charming restored cottages on the edge of a small agricultural village in the rural north of La Gomera
1-bedroom cottage for 2-3 people and 2-bedroom cottage for 2-4 people
Self-Catering
Car hire included
These two detached cottages stand on the edge of the rural hamlet of Las Rosas in the north of the island, amidst the distinctive agricultural terraces that have been hewn from the sloping terrain to cultivate fruit, vegetables, wine and potatoes. The coastal village of Agulo is approximately 5 Km and has a selection of small shops for your day-to-day needs, as does the slightly larger village of Hermigua which is around 8 Km away. For a more comprehensive range of facilities, the island capital, San Sebastian, is just over 30 Km away, but closer to home, a handful of unpretentious local restaurants can be found within a 10 minute drive from the houses, and the nearest simple local bar can easily be reached on foot.

Both houses are thought to be around a hundred years old and have been tastefully restored to offer practical holiday accommodation with a touch of old-fashioned charm.

The lower house, Tagora, has a bedroom with twin beds, a spacious living-dining room with a sofa-bed and an open-plan kitchenette (with 2-ring electric hob, microwave, fridge and coffeemaker), and a shower room with a washing machine.
The upper cottage, Era de las Rosas, is similar but instead of the sofa bed it has a second bedroom with twin beds, and its kitchen is separate from the living room. Both cottages have electric heaters, and terraces with views of the terraced fields and surrounding mountains.

As the houses are accessed by steps and their respective parking areas are a short walk away (approx. 20 metres), we do not consider them suitable for those with walking difficulties, but being in the rural north of the island they do make a good base for keen hikers. There is some lovely terrain for walking right on your doorstep, including to the Amalahuigue water reservoir which lies just south of Las Rosas, and the northern edge of the Garajonay National Park is just a short drive away.

Interactive Map
Please use the controls on the map to zoom in and out,
or move the map with your mouse.
Other Accommodation in La Gomera
Other Areas in The Canary Islands
Our Other Destinations