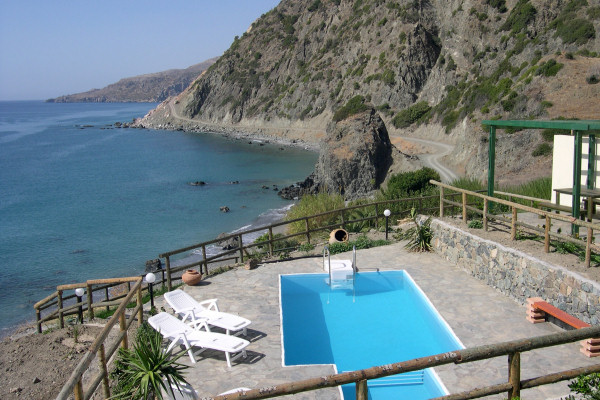 East-of-Preveli Villas
Standing in glorious isolation above the south coast, these twin villas boast sensational sea views from their terraces and private swimming pools.
2 x 2-bedroom Villas for 2 - 5 people
Self-Catering
Private swimming pools
Air-conditioning
Car hire included
The two detached East of Preveli Villas, separated from each other by a high fence, sit on the hillside just above the Libyan Sea on a stunning stretch of the south coast and their garden paths leads down to the small coastal track and the delightful little beach. They are an ideal location for those who wish to enjoy the natural surroundings and unwind in harmony with nature. The nearest tavernas and mini-market are just four kilometres along the coast at Ammoudi and the Lake of Preveli and the inland town of Spili, for more serious shopping and banking, is a 20 kilometre drive although there are a handful of tavernas in the villages en route.

Each house is identical in layout with an open plan living room and kitchen plus a shower room downstairs and a double and a twin bedroom plus a full bathroom upstairs. The living rooms each have a fireplace and a satellite television and CD player for cosy evenings in the cooler months and the kitchens are well equipped with full cookers, microwaves and dishwashers for guests who wish to dine at home.

Each house has a spacious balcony both upstairs and down for making the most of the fantastic seascapes and the lawned gardens each has it own 35 square metre rectangular pool if the few moments stroll to the sea seems all too much

The East of Preveli Villas will certainly not suit anyone looking for all the trappings of a resort holiday but for those who like to relax by the sea and use their hire car to explore the fascinating local villages, where agriculture is still the mainstay of the local economy, or hunt for hidden coves, they are an ideal location.

Interactive Map
Please use the controls on the map to zoom in and out,
or move the map with your mouse.
Other Accommodation in South-West Crete
Other Areas in Crete
Our Other Destinations