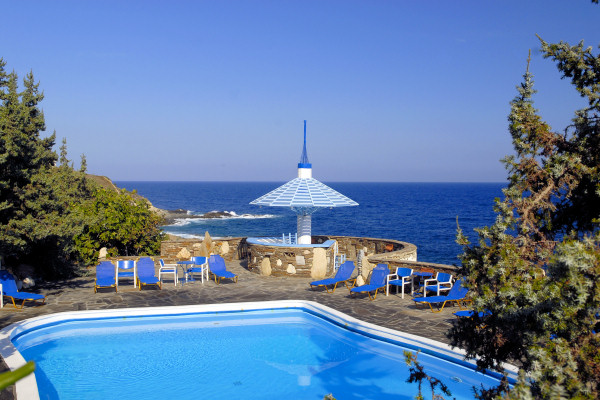 Hotel Daedalos
A welcoming hotel full of simple Greek charm, in a scenic and convenient setting with lovely views of the sea.
C-Class Hotel with 26 rooms
Bed & Breakfast
Seawater swimming pool
Air-conditioning
Transfers included
One of the first proper hotels to be built in this part of Ikaria, the Daedalos is the archetypal Greek seaside hotel, with both its setting on the rocks above the shoreline and its traditional blue-and-white design proclaiming an unmistakable picture-postcard Greekness.

The Daedalos stands about 200 metres west from the centre of Armenistis, amidst distinctive cedar trees. Cachet Travel guests are automatically allocated sea-facing rooms, each with a balcony, but the view from some may be partially obscured by the spiky foliage of these rare trees, which were revered as sacred in ancient times, and are protected by conservationists nowadays.

Inside, the rooms are the very image of Greek island simplicity, with white-washed walls and wooden furnishings painted in classic shades of Aegean blue. Although not large, the rooms feel light and airy, and benefit from both heating for cooler nights during early or late season and air-conditioning to moderate the summer heat. The en-suite shower rooms are fairly simple, but modern concessions in each room include a fridge, a hairdryer and a TV set (with limited channels).

The breakfast buffet too is Greek rather than international in style, but perfectly satisfying, with fresh bread augmented by local cakes or biscuits, yoghurt and honey, ham or cheese and boiled eggs. Although the breakfast room can double as a restaurant for occasional group bookings, the Daedalos does not normally serve evening meals, but as the village centre is barely a five-minute walk away, this does leave you free to sample the wares of the different local tavernas. Just beyond the village lie the excellent sandy beaches of Mesakti and Livadi, the first of which you can reach on foot in around 10 minutes, but many guests opt to spend at least some of their time relaxing by the hotel's saltwater swimming pool and enjoy its tranquil setting and panoramic views.

Whilst not suited to those seeking the latest luxuries and sophisticated styling, the Daedalos makes a delightful base for travellers who enjoy unpretentious accommodation, a personal atmosphere and a peaceful and scenic setting.

Interactive Map
Please use the controls on the map to zoom in and out,
or move the map with your mouse.
Other Accommodation in Ikaria
Our Other Destinations