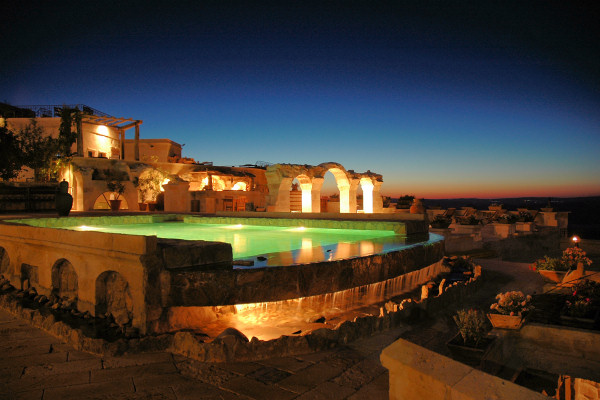 Museum Hotel
Located in the stunningly sited town of Uchisar, this expertly restored cave hotel is one of the best addresses in Cappadocia.
Boutique Hotel with 30 rooms and suites
Bed & Breakfast
Swimming Pool
Transfers included
The Museum Hotel has many reasons for being one of the best addresses in Cappadocia, not least its situation, at the highest point in the area, thus affording fabulous views across the valleys and rock formations from all the rooms and terraces. The cave buildings themselves have been meticulously restored, preserving the integrity of the original ruins, and the interior not only offers guests all the comfort and facilities they would expect of a modern boutique hotel but also a fascinating insight into the history of the area through the extensive collection of antiques and artefacts, all legacies of the Selcuk, Ottoman, Roman and Hittite civilisations.

Each of the 30 ensuite rooms is individually furnished and stylishly decorated in keeping with long history of the cave buildings but the facilities have certainly been designed with the needs of the 21st century traveller in mind. Standard features include free wireless internet connection, television, tea and coffee making facilities and a minibar in addition to hairdryers, irons and ironing boards. Deluxe rooms and suites (some capable of sleeping a family of four) with some extra luxurious touches, such as jacuzzis and HD televisions, are also available at a supplement.

The Lil'a restaurant has gained a reputation in the area for its a la carte menu, offering the best of traditional and modern Turkish cuisine, and its fine dining ambience matches the superb views from its windows and terraces. To compensate for any over-indulgence there are a number of activities available from the hotel including the relatively new - and environmentally friendly - Cross Golf, morning walks, horse rides or balloon flights that really give another perspective to the unique landscapes. For those who prefer more sedentary pleasures the hotel offers a full massage programme, occasional cooking lessons and whirling dervish displays.

The Museum Hotel is an excellent choice for those who wish to explore the landscapes and history of Cappadocia and feel a little pampered in the process.

Interactive Map
Please use the controls on the map to zoom in and out,
or move the map with your mouse.
Other Accommodation in Cappadocia
Other Areas in Turkey
Our Other Destinations