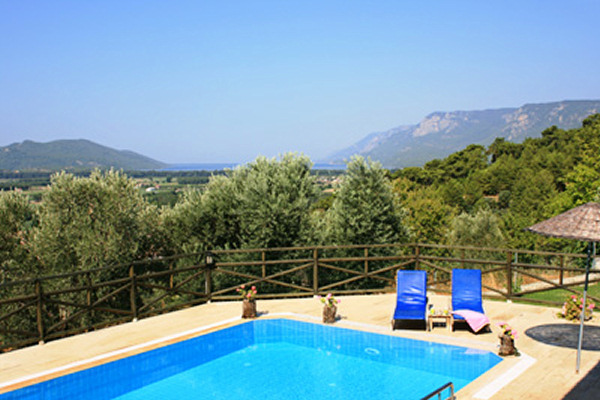 Villa Degirmenci
An ideal family villa, boasting both a good-size swimming pool and a separate paddling pool, in a scenic rural setting close to Akyaka
3-bedroom Villa for 2-6 people
Self-Catering
Private swimming pool
Air-conditioning
Car hire included
Paddling pool
Please note: Thursday arrivals/departures only.

With its peaceful and scenic setting and the benefit of having not only a good-size swimming pool, but also a separate paddling pool for children, Villa Degirmenci is the perfect venue for a thoroughly relaxing family break. Surrounded by fields and orchards, the villa stands approximately 1.5 km from the traditional farming village of Atakoy, where you will find the nearest minimarket and tea garden, and around 5 km from the larger seaside village of Akyaka, which in the summer months is a popular resort for Turkish holiday makers and as such offers a good selection of authentic restaurants, not only near the seafront, but also charmingly set on the banks of the small river that winds its way towards the picturesque Gulf of Gokova.

Great care has been taken in the design of the villa and the choice of materials to ensure that it blends sympathetically into its natural surroundings. The accommodation is all on one level and is full of traditional charm, thanks to the natural stone walls, handsome fireplaces and beautifully carved wooden ceilings. All three bedrooms (one double, one twin and one single) are air-conditioned, as is the living room, which also boasts a TV and DVD player. There is a second shower room in addition to the master bedroom's en-suite, and a separate kitchen/dining room, equipped with fridge-freezer, small oven, microwave, washing machine and dishwasher.

Outside, there are both shaded and sunny terraces, with wonderful views across the surrounding countryside towards the Gulf of Gokova and the mountains. At 9 x 5 metres, the main pool is a very good size for a private villa, and the shallow 2 x 1.5 metre paddling pool is a rare bonus in these parts. Another delightful feature is the Ottoman-style kosk, a traditional seating area with a stone-built barbecue - the perfect spot for enjoying al-fresco meals in true Turkish style.

Other Accommodation in The Datca and Loryma Peninsulas and Gulf of Gokova
Other Areas in Turkey
Our Other Destinations