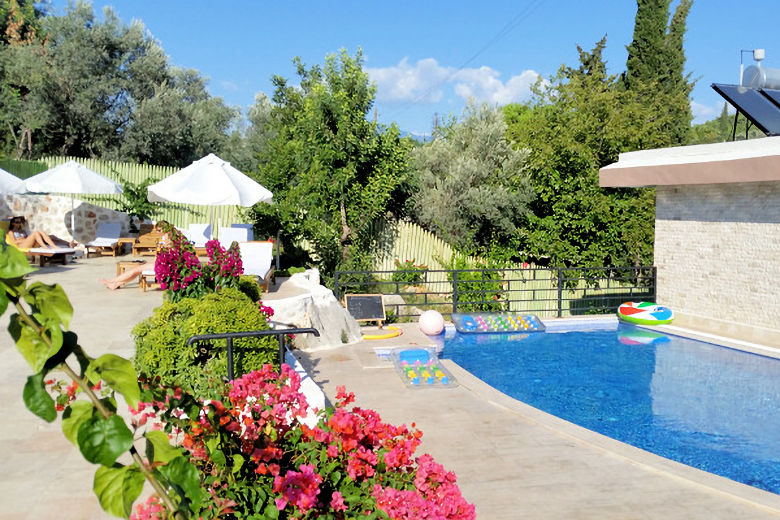 Hotel Dardanos
A small hotel offering charming accommodation and a warm personal welcome in the heart of this small village, and within walking distance of one of Turkey's best sandy beaches
2-star hotel with 18 rooms
Bed & Breakfast
Swimming pool
Air-conditioning
Transfers included, or reduced car hire rates
Free WiFi
Beach lovers looking for a relaxing holiday in unspoilt surroundings with an authentic Turkish atmosphere need look no further. Patara beach is generally considered one of the best in Turkey and was even voted the best beach in the World in a Sunday Times survey a few years ago, and it's not hard to see why: a protected turtle-nesting site, this 10-mile stretch of soft golden sand is backed by rolling dunes and green hills, and remains completely free from development, with the exception of a well-run beach caf&eacute-restaurant at its eastern end. Sun-loungers and umbrellas are available for rent in front of the café, but walk just a few minutes west along the shore and you can usually find your own stretch well away from the nearest towel. Patara beach owes its protected status not only to turtle conservation, but also to the adjacent archaeological site. Although only partially excavated, the site boasts several impressive buildings, including a large amphitheatre, and part of its fascination lies in wondering what further treasures may lie buried beneath the dunes.

At the result of Patara's protected status, there are no large hotels or resort complexes in this area. The nearest accommodation can be found in the small village of Gelemis, approximately 2 km from the eastern end of the beach. Even here, there are no signs of mass tourisms, just a number of small hotels and pensions, most of which provide very simple accommodation. Situated in a side street in the very heart of the village, the Dardanos is one of the more established hotels here, but thanks to its recent refurbishment, offers rather more comfort and style than its modest official two-star rating suggests. Its status as one of the most popular hotels in Patara is further boosted by the friendly owner-manager Arif, who goes out of his way to make his guests feel welcome and to provide any local advice or assistance they may require.

The two-storey buildings comprises 18 rooms, with a choice of doubles, twins and triples, as well as a couple of pairs of interconnecting rooms for families (vailable on request, early booking essential). Whilst not large, the rooms have been prettily furnished and decorated in a successful blend of contemporary and traditional styles. The furnishings have been hand-made from natural materials in the local region, and carefully chosen rugs and lamps add some tasteful Turkish touches. Each room has a balcony and a modern en-suite shower room, as well as a hairdryer and the all-important air-conditioning. There are no TVs in the room, as Arif believes that guests visiting Patara would rather spend their days discovering the unspoilt natural environment, and their evenings enjoying good conversation with their fellow travellers over a drink from the bar on the hotel's flower-festooned garden terrace. However, free WiFi is available throughout the hotel for those wishing to keep abreast of the news whilst on holiday.

In the mornings, the garden terrace becomes the place to start the day with a traditional Turkish breakfast, whilst for dinner you can take your pick from several authentic village restaurants within easy walking distance. The beach is approximately half-an-hour's walk away, assuming that you don't get too sidetracked investigating the archaeological site that you pass through on the way. The hotel provides a minibus service free of charge twice a day, and there is also a more frequent public bus service. Please note that the direct route to the beach passes through the archaeological site, so a small entrance fee applies, but for those planning several visits there are extremely reasonably-priced multiple-entry tickets available. For those with their own transport, or who don't mind a hike, there is also access across the dunes further west. Should you occasionally fancy a change from the beach, Arif has recently added a swimming pool bordered by a pretty terrace with loungers at the hotel - perfect for an early morning swim, a refreshing dip after a day out, or as an alternative to the beach on windy days.

Whilst the beach is undoubtedly Patara's biggest draw, there is much else to be enjoyed here. Actively minded visitors can go hiking in the Taurus mountains, canoeing on the Xanthos river or horse-riding across the dunes. Apart from Patara's own excavations, there are other historical sites close by, such as Xanthos and Tlos, and the impressive gorge at Saklikent. Day-to-day essentials can be bought locally in the village's small mini-markets, but should you fancy a day's browsing and souvenir shopping, the bustling harbour town of Kalkan with its cobbled lanes lined with quirky boutiques and craft shops can easily be reached using the local bus service.

Whether you are planning an unashamedly lazy beach holiday or one packed full of nature-based activities and archaeological explorations, Patara is a delightfully authentic and uncommercialised venue, and in our opinion the Hotel Dardanos is the perfect base from which to enjoy all that this rather special place has to offer.

Interactive Map
Please use the controls on the map to zoom in and out,
or move the map with your mouse.
Other Accommodation in Kalkan, Kas and Patara
Other Areas in Turkey
Our Other Destinations