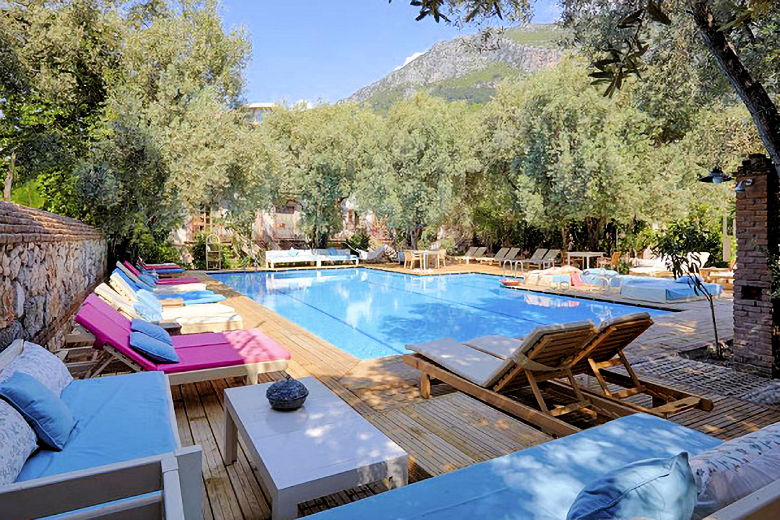 Oyster Residences
A prettily designed, adults-only boutique hotel with a very personal atmosphere in a prime beachfront setting in the popular resort of Oludeniz.
Boutique Hotel with 26 rooms
Bed & Breakfast
Swimming pool
Air-conditioning
Transfers included
Adults-only (no children under 14 years accepted)
Free WiFi in public areas
Separated from Oludeniz's iconic Belzekiz beach only by the pedestrianised seafront promenade, Oyster Residences is the perfect choice for guests seeking a relaxing beach holiday with a full range of resort facilities within easy walking distance, but who prefer the traditional charm and personal ambience of a smaller boutique hotel.

Oyster Residences is the creation of Gunsenin Gunel, a graduate of the Chelsea School of Arts. When she was a child, her family had a simple timber-built holiday home here, surrounded by what was then mostly farmland, although a few backpackers had started to set up camp behind the beach in the summer, attracted by the natural beauty of the bay and the lagoon, the stunning mountain backdrop and the wealth of historic sites that could be reached from here. Gunsenin had always dreamt of sharing her precious holiday home with people from all over the world, and in 2004 - by which time Oludeniz had grown into a popular holiday resort - she finally realised this dream by opening Oyster Residences on the site of her original timber cottage.

At the front of the plot, bordering the beach promenade, is the hotel's bar and restaurant area, so that guests can enjoy the views of the bay at breakfast time, when a traditional Turkish spread is served, during the daytime over a light lunch, and in the evening, when the creative dishes and refreshing cocktails served are further enhanced by the beautiful colours of the sunset. Being situated on the Oludeniz's seafront, some music can usually be heard until around midnight on summer evenings, but other than that this is a relatively peaceful spot, whilst some of the resort's livelier bars are a few minutes' walk away.

The guest accommodation is tucked away in mature gardens behind the restaurant, amidst old olive trees, banana plants and flowering shrubs. There are just 26 guestrooms, divided between two attractive buildings that were inspired by the traditional stone mansions of Fethiye's 19th-century merchants. The interiors reflect Gunsenin's artistic streak, each room being individually decorated with different fabrics and craft items to create a quirky, bohemian style. At the same time, all rooms boast the full range of modern comforts including air-conditioning, minibars, satellite TV, safety deposit boxes and hairdryers, as well as en-suite bathrooms with double counter-top basins and showers with body jets. Bathrobes and pool towels are provided.

Standard rooms are on the first and second floors and open onto a small French balcony overlooking the pool and gardens. These rooms have either twin beds or a king-size double. Garden Terrace rooms are on the ground floor, have king-size double beds and their own terrace area with a daybed and a table and chairs. Attic rooms on the top floor do not have any balconies but are the only rooms to boast sea views. These also have king-size double beds, and in addition to a walk-in shower in the bathroom, these rooms also have a Jacuzzi bathtub strategically placed by one of the windows to allow you to benefit fully from the views. Taller guests should however be aware that there is limited headroom in parts of the Attic rooms.

Enclosed by the two accommodation buildings and the restaurant is the lovely central garden, with a good-size swimming pool and plenty of comfortable loungers for sunbathing, unwinding with a good book or snoozing in the shade of the trees. Children under 14 years of age are not permitted at Oyster Residences, which contributes to the relaxing ambience by the pool. If you prefer swimming in the sea, the long sand-and-shingle beach is literally just across the promenade, whilst the oft-photographed lagoon in a just a few minutes' walk away. For a change of scenery, a variety of boat trips operate from Oludeniz along the coast, there is a frequent bus service to the lively market town of Fethiye, and the more adventurous can try their hand at scuba-diving or even paragliding off Mount Babadag; even if you lack the had for heights to be tempted yourself, it's always fun to watch the paragliders come in to land, often right in front of the hotel!

Oyster Residences privileged location, attractively designed accommodation and laid-back atmosphere are all equally appealing, but what makes a stay here so special is the warm welcome and genuine hospitality provided by Gunsenin and her small, friendly team, who are always on hand to offer local advice and to ensure that their guests feel at home and at ease. As Gunsenin said in a recent interview with a Turkish newspaper: "We used to spend our summers here and we had many friends stay with us. Really it is not so different from what I do here now with my guests. This is still my home and I look after my guests like they are my friends"

Interactive Map
Please use the controls on the map to zoom in and out,
or move the map with your mouse.
Other Accommodation in Fethiye, Oludeniz, Kaya & Faralya
Other Areas in Turkey
Our Other Destinations