Cappadocia
No matter how many images of the awesome landscape of Cappadocia they see, nothing can prepare the visitor for the reality. The 'fairy chimneys' and other bizarre rock formations dominate the landscape and give the impression of a barren, dry lunarscape but the soft rock, or tuff, formed by volcanic ash compacted over the millennia, actually creates a very fertile soil and agriculture has always been the mainstay of the region.

The landscape is not a purely natural phenomenon as the centuries of tunnelling underground dwellings, begun by the incredible socially advanced Hittites around 2000 BC and expanded over the centuries into whole inter-linked underground cities, interacted with the natural erosion to create the unique shape of the landforms.

Today's visitors can spend hours exploring the vast network of underground houses and churches not to mention contemplating the landscape which, in the ever-changing light, evokes all manner of emotions from wonder to uneasiness. Perhaps the most atmospheric way of viewing it is from a hot air balloon as dawn is breaking or walking the amazing red canyon in the Ilhara Valley. If the majesty of the landscape becomes too overwhelming a pleasant day can be spent pottering through the rural villages where local farmers still enjoy a traditional but comfortable living.

In order to allow our guests to experience the true essence of the area, we have chosen two small hotels cleverly converted from some of the cave houses first occupied in Roman times and that offer true Cappadocian hospitality.
Istanbul & Cappadocia - An unforgettable combination
Flying to Cappadocia from Britain involves taking a scheduled flight via Istanbul so to use this to your advantage, and for a complete contrast, we can arrange for you to spend part of your time in Istanbul and the remainder in Cappadocia. This can be done at any time of the year and we would recommend a few days or a week in Istanbul on foot and a few days or a further week in Cappadocia, perhaps with your own car.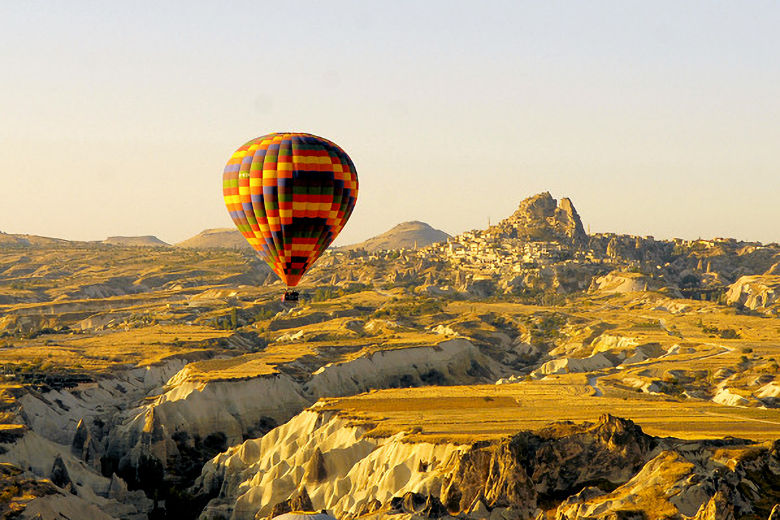 Accommodation in Cappadocia:
Please zoom in and click on the markers, or scroll down for a list of accommodation.
Other Areas in Turkey
Our Other Destinations