Dalyan
First-time visitors to Turkey are often surprised by the lushness of the country's vegetation and by the abundance of water found. Given the hot, dry summer climate of the eastern Mediterranean, the uninitiated generally expect to find a landscape made up of parched hillsides, dry riverbeds and dormant shrubbery, so you can often observe disbelief on the faces of travellers as their plane descends towards Dalaman Airport, bringing into view not only rugged mountain ranges cloaked in swathes of dense forest, but also fertile plains dotted with extensive lakes and crossed by substantial rivers.

Just west of Dalaman lies the area's largest lake, Koycegiz, which is linked to the sea by the Dalyan river. Fringed by reeds, the river's wide estuary is sheltered from the open waters of the Mediterranean by the extensive sands of Iztuzu beach. One of Turkey's most beautiful beaches, Iztuzu briefly came to fame during the 1980s, when conservationists, including David Bellamy, successfully stopped the beach - an important breeding ground of the caretta caretta loggerhead turtle - from being developed as a resort area. Iztuzu beach is still protected, with no permanent construction allowed, night-time access banned and restrictions on where parasols may be placed to avoid damage to the turtles' eggs. The nearest place to stay for those wishing to enjoy this magnificent 4-km stretch of fine, golden sand is the village of Dalyan, beautifully situated on the estuary opposite a magnificent set of Lycian rock tombs, hewn into the caramel-coloured cliff-face in the 4th century.

Over the past decade or so, Dalyan has become a popular holiday spot but retains its laid-back, Turkish charm, consisting mostly of small hotels, pensions and apartments constructed in local style. The eastern end of Iztuzu beach can easily be reached from here using the local dolmus minibus service, whilst a fleet of wooden riverboats with colourful canvas awnings carries visitors along the river to the beach's western end - an immensely enjoyable option, which should be undertaken at least once during your stay, even by those who do not consider themselves beach lovers, as the journey takes you past the ancient site of Kaunos - impressively set on a steep-sided peninsula - along the way. In the opposite direction, heading towards the lake, boats take visitors to thermal mud-baths and sulphur springs, whose therapeutic qualities have been known and appreciated since Roman times.

Dalyan itself boasts quite a decent selection of restaurants, most of which are attractively situated on the riverside close to the little harbour, or along the main street, which is pedestrianised in the evenings. There is also a diverting range of craft, clothes, carpet and souvenir shops along the main street, as well as a handful of atmospheric bars, where you can mingle with like-minded holidaymakers of all nationalities. Dalyan's beautiful riverside setting, its ample range of facilities and its easy-going atmosphere make this an ideal choice for couples and families who wish to be able to entertain themselves in a variety of ways both during the daytime and in the evenings, yet prefer a small and relaxed resort that still retains a good dose of authentic Turkish charm.

Part of the appeal of staying in Dalyan is that hiring a car is by no means essential, although choosing to do so - maybe for part of your stay - will naturally enable you to explore not only the major, but also the lesser-known, local sites at leisure. Alternatively, there are various guided excursions on offer, taking visitors as far afield as Ephesus and Pamukkale.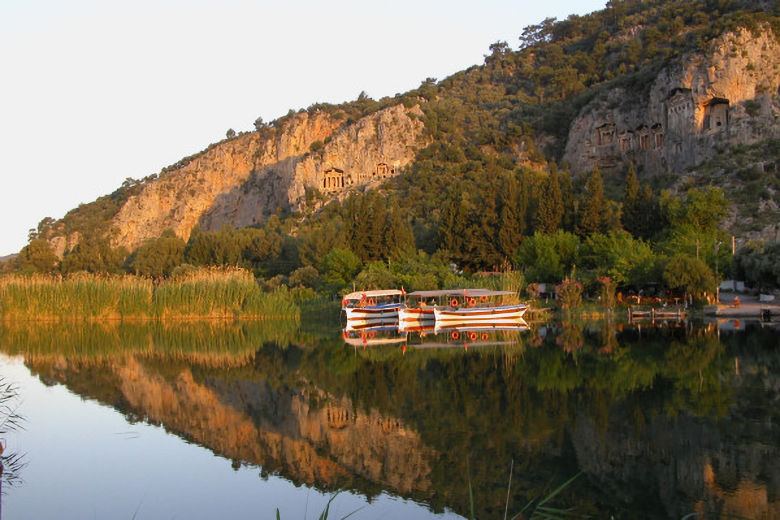 Accommodation in Dalyan:
Please zoom in and click on the markers, or scroll down for a list of accommodation.
Other Areas in Turkey
Our Other Destinations