The Lassithi Region & Mirabello Gulf
The Lassithi region, in the centre of the island, in addition to being home to some of the island's more popular beach resorts, still has much else to offer more selective visitors hoping to avoid the masses. Just a few kilometres from the frenetic pace of Hersonissos and Malia you can enter an entirely different world where normal Cretan village life and the legendary hospitality continue in the time-honoured way.

Just inland from the pretty beach resort of Sissi, Neapoli is a thriving working town where life centres around the main square. Tourism is certainly not its reason for being and people-watching from one of the cafes is the main attraction.

Further east in the centre of the wide and indented Gulf of Mirabello lies Agios Nikolaos, a bustling, cosmopolitan town where day to day life co-exists with tourism in a relaxed way. Restaurants, smart cafes and patisseries are centred around the harbour and supposedly bottomless Lake Voulismeni, an ideal place for an evening stroll. The town is home to an excellent archaeological museum and enough shops of all kinds to satisfy the average shopaholic.

Some nine kilometres north of Agios Nikolaos lies the resort of Elounda with its busy square and waterfront tavernas, small beach complete with a watersports school and even its own sunken city, ancient Olous. A further four kilometres on is the hamlet of Plaka with a handful of cafes and fish tavernas and regular boat trips to Spinalonga, the evocative island with its ruined fortifications made famous as a former leper-colony.

South east of Agios Nikolaos lie Kritsa, famous for its lace and local handicrafts, the small church of Kera, famous for its naive frescos and Lato, a commanding hillside Classical site. Here too are the reed-fringed Almyros beach, busy with all types of watersports activities and the sandy beach at the village of Ammoudara. Slightly further east the stark and haunting wall of the Thripti mountains seems to tumble into the sea and in a dip in the hills lies Kalo Chorio with its beaches hidden beyond the olives and its collection of low-key tavernas and stores. Beyond Kalo Chorio lie more sheltered sandy coves, the well-preserved ruins of the Minoan town of Gournia and the village of Pacchia Amos, known for its excellent fish tavernas.

Just a little further east, the seaside hamlet of Mochlos provides an ideal retreat for those seeking the charm of an unpretentious fishing village with the added bonus of its own important Minoan site and a handful of excellent fish tavernas.

The Lassithi region and the Mirabello Gulf are ideal for family beach holidays as well as an excellent base for those visiting Crete's archaeological treasures and is the perfect solution for families or groups of friends with differing interests.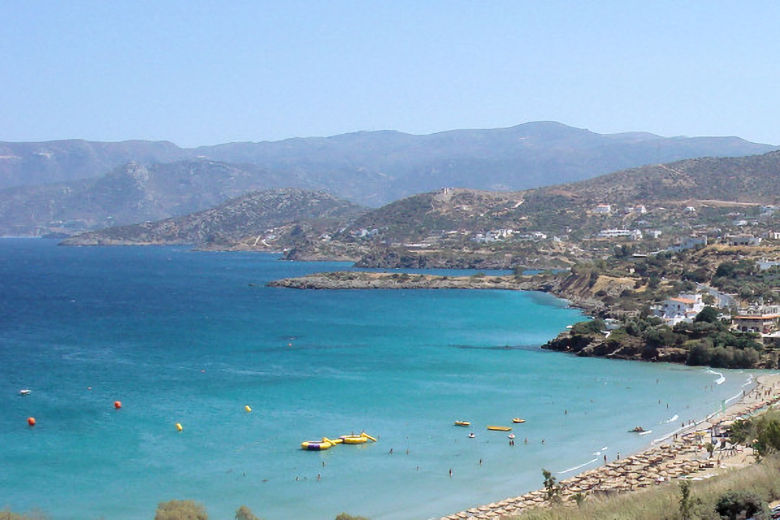 Accommodation in The Lassithi Region & Mirabello Gulf:
Please zoom in and click on the markers, or scroll down for a list of accommodation.
Other Areas in Crete
Our Other Destinations