La Graciosa
Stunning beaches of soft, pale sand, washed by crystalline turquoise waters and with barely a soul - let alone a crowd - to be seen anywhere, await visitors on La Graciosa, the Canary Island's best kept secret. Separated from Lanzarote's northern tip by the narrow strait of El Rio, La Graciosa is the ultimate desert island hideaway, perfect for those who wish to completely escape the pressures of modern life for a week or two. There are no roads at all on the island - just a handful of rough tracks - so with the exception of a few four-wheel drive vehicles belonging to some of the locals, there is no traffic whatsoever. However, measuring just 27 km2, the island can easily be explored on foot or by mountain bike, and after a day or two here you will have adjusted to the exceptionally unhurried way of life, realising that there is no point in trying to rush anywhere faster than your own legs will carry you.

La Graciosa's population of just 600 souls all live in the island's only village, Caleta del Sabo, and most earn their living from the sea. Down by the harbour, there are a handful of simple restaurants where you can enjoy the freshest fish and seafood for lunch or dinner, and the village has a couple of mini-markets for all your basic day to day needs, as well as places renting out mountain bikes and a small medical centre. As you may have gathered by now, La Graciosa is not the place to come if you seek any degree of sophistication, and the village has a rather higgledy-piggledy appearance, with simple whitewashed houses linked by a loose grid of dusty streets.

Beyond the boundaries of the village, no construction is allowed whatsoever, as the whole island has been declared a nature reserve. As a result, the island's beaches are utterly unspoilt. For a quick dip, the village beach is more than adequate, but the fun of staying on La Graciosa is to just walk along the coast and stop wherever you feel like it (bear in mind, however, that there are no facilities outside the village, so ensure you carry sufficient water and a picnic, should you wish to spend the whole day on the beach).

The most famous beach, Playa de las Conchas, is a good hour's walk from the village and can occasionally suffer from strong currents and waves, but other equally beautiful beaches closer to the village include Playa Francesa and Playa de las Cocinas, both of which are very sheltered and benefit from stunning views back towards the imposing Famara cliffs on Lanzarote.

Together with four even smaller, uninhabited islands, La Graciosa forms the Chinijo archipelago, the largest protected marine reserve in Europe, so if you should ever tire of the beach, you can go on a glass bottom boat excursion, take a boat trip to the smaller islands, or even join a deep-sea fishing expedition.

To reach La Graciosa, you will be transferred from Lanzarote's airport by taxi or minibus to the harbour of Orzola, where they may be a wait for the next ferry crossing (there are three crossing per day in winter and four in summer). After the 30-minute crossing, you will be met at the harbour by your accommodation owner, who will take you and your luggage to your accommodation. Once settled into your apartment, take off your watch and let unadulterated relaxation take over, for a holiday on La Graciosa is a return to the simple pleasures in life - swimming, walking, cycling, reading, snoozing, and above all, forgetting about the stresses of 21st-century living.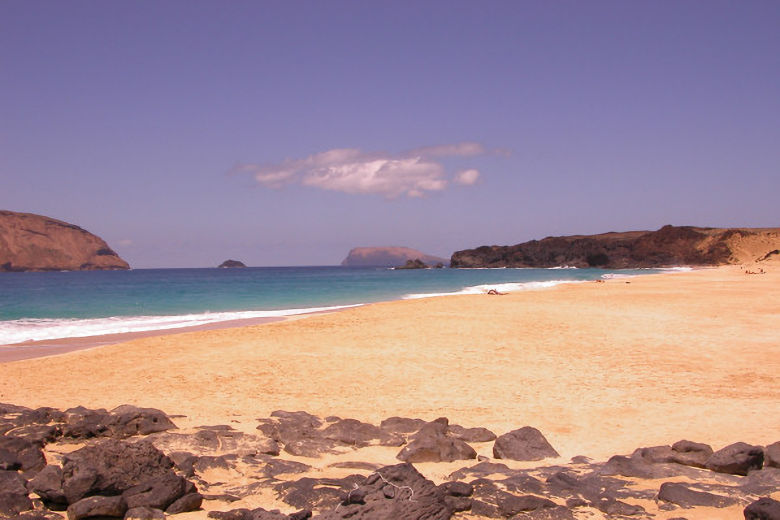 Accommodation in La Graciosa:
Please zoom in and click on the markers, or scroll down for a list of accommodation.
Other Areas in The Canary Islands
Our Other Destinations