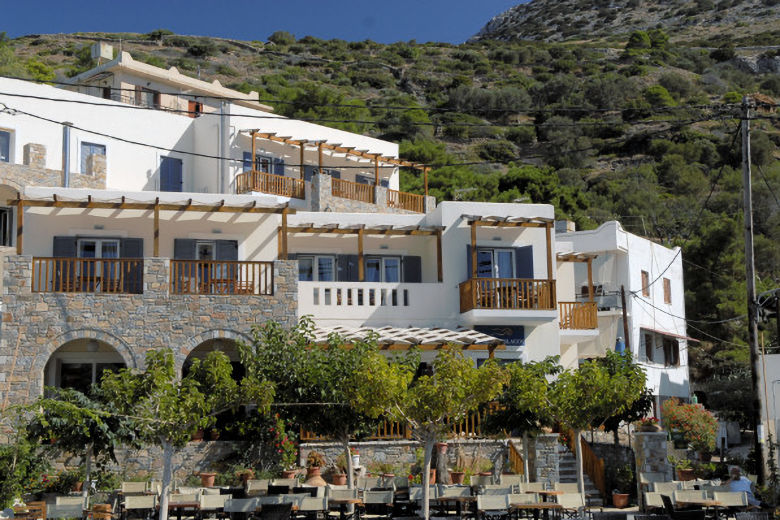 Hotel Archipelagos
Set at the northern end of Fourni's picturesque harbour-front, this delightful little hotel combines classic Greek charm with contemporary comfort.
Family-owned Hotel with 12 rooms
Bed & Breakfast
Air-conditioning
Transfers included
Approaching Fourni's harbour by ferry and casually scanning the village's seafront, our glances were almost instantly drawn towards the northern end of the horseshoe-shaped bay. For there, a handsome building with graceful stone arches and large balconies shaded by trellises of polished wood and creamy linen created a distinctly smarter first impression than the usual rooms-for-rent encountered in such off-the-beaten-track settings.

If if was the well-presented exterior that first kindled our interest in the Hotel Archipelagos, the interiors certainly didn't disappoint. Created by the charming Stamatoula, the local pharmacist, and her family, the Archipelagos manages to combine the intimate ambience and laid-back informality of a traditional Greek village pension with some of the comfort and style of a boutique hotel. Each of the 12 guestrooms is prettily decorated in soft shades of cream and powdery blue, a colour-scheme complemented by the distressed-look furnishings. Most of the rooms have two very comfortable single beds which can be arranged as a double, but three rooms also have an additional bed suitable for a child. All the rooms are air-conditioned and double-glazed, and naturally each has a modern en-suite bathroom. The rooms also benefit from flatscreen TVs (limited channels), hairdryers and refrigerators to keep your drinks cool. And what better place to enjoy a chilled glass of wine or an ice-cold beer than your spacious balcony or terrace, from where you can spend hours monitoring the comings and goings on the quayside.

Another good place for watching the world go by is the hotel's mulberry tree shaded terrace. In the mornings, a wholesome continental breakfast - with fresh bread, homemade cake, boiled eggs, ham, cheese and yoghurt with honey - sets you up for the day's exploring, or lazing around, as the case may be. In the evening, it takes just a minute or two to stroll along along the seafront to the village's delightfully unpretentious tavernas and fish restaurants. After dinner, there are a couple of low-key cafés for those wishing to mingle a little longer with both locals and fellow holidaymakers, but many guests will undoubtedly enjoy returning to the Archipelagos for a night-cap on their own terrace, gazing out at the silvery reflection of the moon on the bay.

Interactive Map
Please use the controls on the map to zoom in and out,
or move the map with your mouse.
Other Accommodation in Fourni
Our Other Destinations