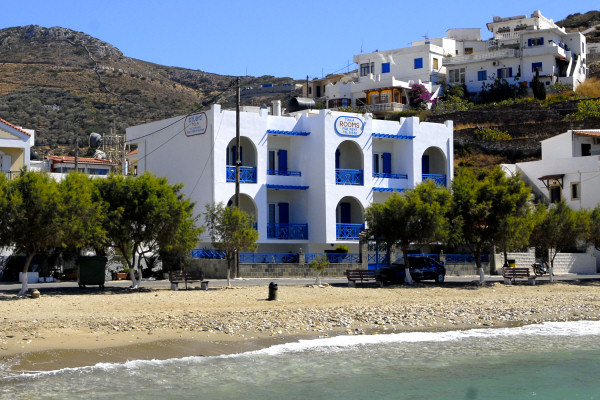 Toula Studios
Perfect for enjoying the simple pleasures of a Greek island holiday, these studios are right on the seafront, just across a small road from the village beach.
14 Studios for 2 people
Self-Catering
Air-conditioning
Transfers included
Situated at the southern end of this picturesque harbour village, these unpretentious studios are perfect for guests wishing to be just a stone's throw from the sea, as only the scarcely used local road separates Toula from the village beach. It therefore really would take no athletic prowess to fling a pebble from your balcony and hit the usually calm waters of the bay, but perhaps a more sensible way to test this proximity is to pop out in your trunks and flip-flops for a pre-breakfast swim and make it back by the time your eggs are boiled.

Toula Studios are for those who enjoy the simple pleasures of a Greek island holiday. There may be nothing particularly luxurious about the accommodation, but the studios provide all the essentials for an easy-going beach holiday, are well maintained and kept spotlessly clean. The archetypical Greek colour scheme of the exterior is continued inside the studios, as the different shades of blue of the fabrics and furnishings contrast with the gleaming white of the walls and floor tiles. All the studios benefit from both air-conditioning and a ceiling fan, and naturally each has a tiled shower room. The majority are twin-bedded, but there are also two doubles, available on request.

The small kitchenette units in each studio comprise a fridge, a sink and a two-ring electric hob, rendering them suitable for simple catering tasks only, but as the village's appealing range of tavernas is within the easiest of staggering distances, it is unlikely that you would want to prepare more than breakfast or a light salad at lunchtime in your studio. Similarly, the wall-mounted TV sets in each studio are only tuned into local channels, but as all bar four of the 14 studios have direct sea views from their shaded balconies, who would want to watch the small screen?

When we first arrived at Toula Studios we got chatting to a Swedish couple, who proudly told us that this was their tenth visit to these studios in as many years. Shortly afterwards we met the property's owner, Koula, and we soon realised that it is not only the perfect seafront setting of these studios, but also the genuine warmth of the welcome, that makes so many guests return year after year.

Interactive Map
Please use the controls on the map to zoom in and out,
or move the map with your mouse.
Other Accommodation in Fourni
Our Other Destinations