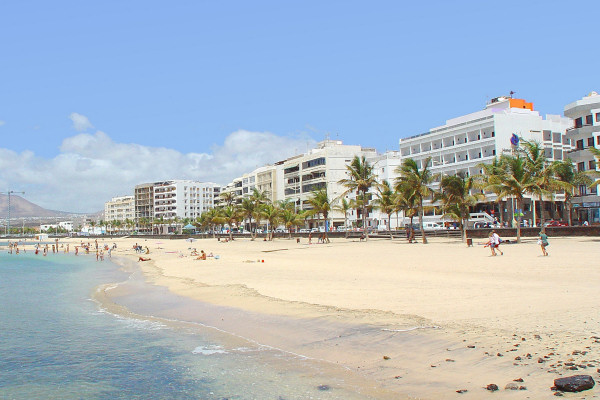 Hotel Lancelot
Situated directly opposite Arrecife's sandy town beach, this mid-range hotel will suit travellers wishing to combine access to the island capital's shops, restaurants and cafés with the opportunity to sunbathe amongst locals rather than tourists.
3-Star Hotel with 80 rooms
Bed & Breakfast
Rooftop swimming pool
Air-conditioning
Transfers included
Free WiFi
Ignored by all the mainstream tour operators and unfairly maligned in some of the guidebooks, Lanzarote's capital, Arrecife, may not strike many as the obvious choice for a holiday location. And yet, in our opinion, it is precisely the town's indifference to tourism that makes it such an appealing option for those who wish to have a good range of restaurants, bars and shops within easy walking distance, but who prefer to be amongst local people rather than foreign tourists. As Arrecife only took over the status of island capital from inland Teguise after the threat of pirate attacks had subsided in 1852, the town does not boast the wealth of historic buildings found in some of the older Canary island capitals, but there are other attractions to be enjoyed by visitors, chiefly the superb museum of contemporary art housed in an 18th century fortress restored by César Manrique, the picturesque lagoon Charco de San Ginés, the attractive, palm-tree lined seafront promenade, where Lanzaroteños of all ages gather for their evening vuelta, and the sandy town beach Playa del Reducto, where townsfolk congregate at weekends and during the all-important siesta hour.

Lancelot is situated directly opposite this beach, on the main seafront avenue, and is thus within easy reach of all the town's amenities. Catering predominantly to business travellers and a few holidaymakers from the Spanish mainland, the Lancelot is a well-run 3-star hotel offering comfortable accommodation and friendly service.

Attractively furnished and decorated, the guestrooms are equipped with mini-bars, satellite TV, telephones, safety deposit boxes and air-conditioning, and the recently renovated en-suite bathrooms are lined with fine marble and are remarkably smart for a 3-star hotel. The vast majority of rooms have balconies, many with views across the beach to the ocean.

On the hotel's roof terrace, guests will find a fitness room and a small swimming pool, which is adequate for a morning swim or a refreshing dip after a day's exploring. Naturally, sun-loungers are also provided here, although most guests prefer to cross the road to the beach for a proper day's sunbathing. Although the hotel does have its own restaurant for evening meals, we have decided just to include breakfast (which is an extensive buffet), to enable guests to try out the different local restaurants that the town has to offer.

Naturally, Arrecife is the hub of Lanzarote's bus network, making it an ideal location for those who enjoy exploring the island by public transport. Taxis are also readily available and quite reasonably priced; however, those planning on hiring a car should note that parking in the vicinity of the hotel is extremely scarce and generally charged for.

Interactive Map
Please use the controls on the map to zoom in and out,
or move the map with your mouse.
Other Accommodation in Lanzarote
Other Areas in The Canary Islands
Our Other Destinations