Ikaria
Rising from the Aegean Sea just west of Samos like the arched back of a giant sea creature, the island of Ikaria is something of an enigma. For in spite of boasting all the attractions most holidaymakers look for in a Greek island holiday - excellent sandy beaches, picture-postcard harbour villages, impressive mountain scenery and a web of forested trails just begging to be explored on foot - Ikaria remains remarkably unspoilt and resolutely devoid of any signs of commercialism.

The roots of Ikaria's unique atmosphere can be traced to the island's turbulent history. The former isolation caused by the island's location and ruggedly mountainous terrain meant that for centuries Ikaria was either ignored by Athens, left to fend for itself against constant pirate attacks and successive conquerors, or used as an outpost to which to banish all manner of dissidents. Having had to find ways to coexist peacefully with all these intruders over time, the Ikariots developed an accommodating, if rather take-us-as-you-find-us approach to hospitality, and whilst continuing to welcome strangers with open minds, they remain determined not to allow their traditional way of life to be altered unduly by temporary visitors. Having thus resisted any temptation to develop their island for large-scale tourism, they have created the perfect environment for inquisitive travellers who seek authentic experiences away from the masses.

Beach lovers should head straight to the picturesque fishing village of Armenistis in the north-west of the island. Boasting two long sandy beaches, Mesakti and Livadi, just to the east, as well as a smaller cove in the village centre, which offers a sheltered alternative for swimming when the Meltemi winds cause the surf on the more exposed beaches to swell, Armenistis has become the closest thing to an actual holiday resort on Ikaria, but retains a wonderfully laid-back atmosphere, with just enough shops for your day-to-day needs and a decent selection of local tavernas. 3 km further west from here, the almost circular cove at Nas is another good place for a swim, backed by a lush ravine and the ruins of an ancient temple dedicated to the goddess Artemis. Whether or not you share the view of the local hippy community that Nas has special energies, this certainly becomes a magical spot when the sun sets, a colourful spectacle best observed from one of the tavernas perched on the rocks above the cove.

Whilst the splendid beaches may be the most obvious attraction here, Armenistis will equally suit keen walkers, for just behind the village rise densely forested slopes, concealing a cluster of intriguing mountain villages - collectively known as Rahes - which appear to lie in a time-zone all of their own. Extensive hiking trails shaded by fragrant pine trees link not only these villages but also viewpoints, lakes, monasteries and other hidden treasures, and group walks can be arranged for those wishing to benefit from the detailed knowledge and expertise of a local guide. For those keen to explore further afield, and not deterred by the winding and at times vertigo-inducing mountain roads, car or jeep hire is recommended for at least part of your stay, as public transport is limited and there is much to be seen. Just driving from to Armenistis from our arrival port of Agios Kirikos in the south-east of the island, we were struck by the variety of landscapes, changing with every twist of the road - at times reminiscent of the wild beauty of southern Crete, at others more akin to the verdant slopes of Madeira, then suddenly bringing to mind the chestnut woods of Corsica's interior.

Agios Kirikos itself, as well as being one of Ikaria's two main ports (together with Evdilos), serves as the island capital, but is more provincial harbour village than bustling metropolis. Its main claim to fame are the natural hot springs nearby, which have been valued for their medicinal and therapeutic properties since ancient times. Just east of Agios Kirikos is the small spa resort of Therma, whilst to the west at Therma Lefkados, the hot spring waters flow straight into the sea to create a very pleasant temperature. For a more conventional beach experience in this part of the island, the sleepy seaside hamlet of Faros is a delightfully laid-back place, its long unspoilt beach shaded by wispy tamarisk trees and backed by a small cluster of tavernas, that are popular with locals for lingering Sunday lunches.

Ikaria will not suit everyone. The journey alone, involving ferry connections or domestic flights and the associated waiting times and potential for last-minute changes, demands a certain degree of patience and flexibility, virtues that are also useful when it comes to adjusting to the island's slow pace and at times idiosyncratic ways. But those prepared not only to tolerate but to embrace the islanders' unhurried approach and famously laid-back philosophy will find a week or two on Ikaria a profoundly relaxing, almost therapeutic experience.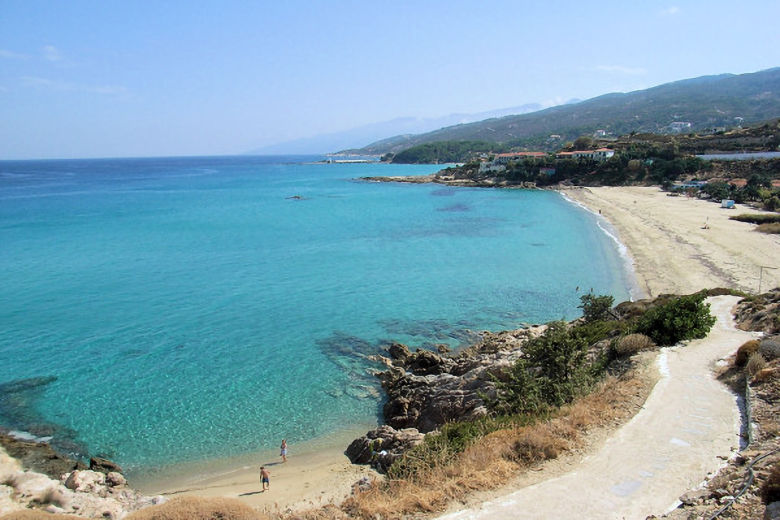 Accommodation in Ikaria:
Please zoom in and click on the markers, or scroll down for a list of accommodation.
Our Other Destinations