Samos
Separated from Western Turkey by the narrowest of straits, the island of Samos is like a microcosm of all the things we treasure most about Greece. A mere fraction of the size of Crete, Samos is small enough to be easily explored in its entirety regardless of where you decide to base yourself, but large enough to present a remarkable diversity of landscapes, an appealing collection of sleepy hamlets, charming villages and bustling towns, and a fascinating array of historical finds.

The island's beaches range from gently shelving expanses of golden sand to small, idyllic coves where white pebbles glisten as they are washed by the clear turquoise waters of the Aegean Sea. A few of the coastal villages have grown into moderate-sized resorts offering a good range of facilities, but many have remained untouched by any obvious signs of commercialisation, and particularly in the west of the island you needn't venture far to find small bays where the only buildings are a solitary taverna and perhaps a handful of summer houses.

Enchanting as the coast undoubtedly is, it is perhaps the natural grandeur of the interior that most distinguishes Samos from the other islands in the East Aegean. In marked contrast to some of its rather barren neighbours, Samos is wonderfully verdant, thanks to an abundance of natural springs. The island is covered in vast expanses of pine forest, extensive olive groves, clusters of stately plane trees, lovingly tended fields and orchards, and of course the vineyards which provide one of the island's most prolific exports (the sweet dessert wine is famous well beyond Greece, but the dryer table wines are equally worthy of sampling and rather more versatile in their application). The landscapes range from gently rolling hills and lush plains to towering peaks sliced through by steep ravines - most impressive of all is Mount Kerkis at the western end of the island, which soars to a height of 1,437 metres, making it the second tallest summit in the Aegean.

But it is not just the island's natural beauty that should encourage you to occasionally tear yourself away from the beaches, but also its cultural treasures. Owing to its strategic position just a stone's throw from the coast of Asia Minor, Samos was once the most affluent island in the Aegean, and during its heyday produced a host of well-known writers and philosophers, including Aesop, Epicurus and the island's most famous son, the mathematician Pythagoras. The island's influence was eventually eclipsed by the rise of Athens during classical times, and by the 15th century Samos had fallen upon harder times, abandoned by its Genoese rulers to the mercy of pirates. Today, Samos certainly feels more like a provincial outpost than a regional powerhouse, but a number of sites reveal some of the legacy of the island's glory days. Only a single column remains out of the 134 that once formed the Heraion Sanctuary near the island's main holiday resort, Pythagorion, but the mere dimensions of this temple tell of the wealth, power and ambition of the island's rulers in ancient times. Equally impressive is the Efpalino Tunnel, an aqueduct more than 1 km in length bored through a mountain to ensure a siege-proof water supply for the island's then capital, Chora. The bustling latter-day capital, Samos Town, picturesquely set on a deep bay, is home to a small but fascinating archaeological museum hosting one of the most important collections outside Athens, including a number of imposing marble statues as well as smaller artefacts, coins and day-to-day items, recovered from the Heraion. Those with a real thirst for archaeology can even catch a boat from the harbour to Kusadasi to visit Turkey's most famous historic site, Ephesus, whilst the pilgrimage island of Patmos, where St John received his Revelation of the Apocalypse, can easily be visited for the day by boat or hydrofoil.

Ferries also link Samos with its lesser-known neighbouring islands of Ikaria and Fourni, which provide a fascinating contrast - not only with Samos, but also with each other - making them ideal options for multi-centre holidays. Then again, unless you are one of the growing number of aficionados who have already visited Samos several times, you may well find that the island offers too many attractions of its own to leave any time to venture beyond its shores.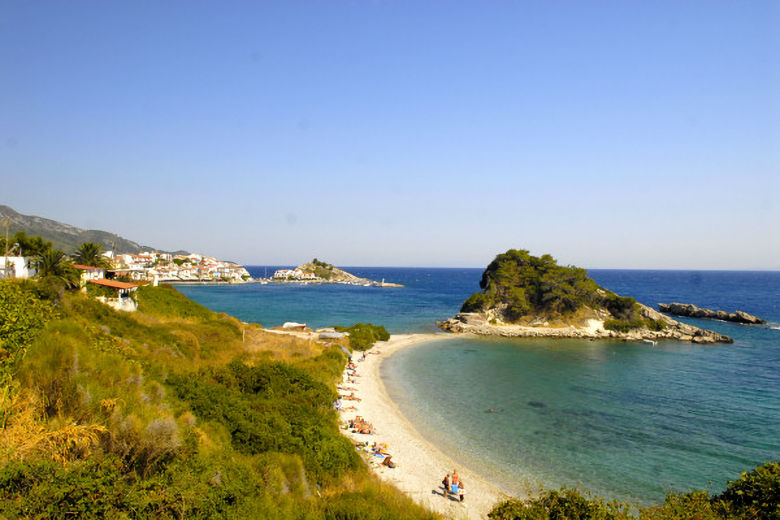 Accommodation in Samos:
Please zoom in and click on the markers, or scroll down for a list of accommodation.
Our Other Destinations