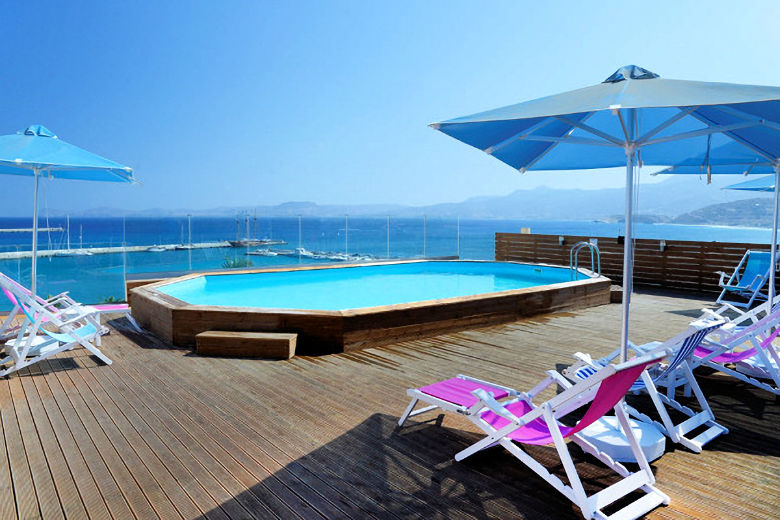 Hotel Itanos
Set directly opposite Sitia's harbour and a short walk from the long sandy beach, this recently renovated hotel is well-placed for guests wishing to enjoy the laid-back charm of this authentic town.
Family-run Hotel with 72 rooms
Bed & Breakfast
Air-conditioning
Transfers included, or reduced car hire rates
Sitia is a delightfully relaxed and friendly harbour town that has so far escaped the commercialism brought by mass tourism. The family owned Hotel Itanos, set just 50 metres from the sea opposite the pedestrian promenade that curves around the waterfront, is much favoured by the locals for everything from a delicious afternoon pastry to being the preferred venue for family celebrations.

The hotel is far from a new fixture in the town, but its 72 guestrooms were recently refurbished to a good standard, each having the expected en suite shower room, air conditioning and radio and television. The public areas include a bar, cafeteria, air conditioned restaurant and a roof terrace with spectacular views over the bay in addition to the bustling waterfront taverna area just across the road. The standard of the food at the hotel is a great source of pride as one of the family members is a fully qualified chef whose homemade cakes and ice cream have become legendary in the area.

A short stroll from the hotel will bring you into the maze of streets that form the heart of Sitia and spiral up towards the renovated fortress that keeps watch over the seaward approaches to the town. Just a little further around the bay is the small port area with its intermittent traffic of ferries and fishing boats and a few hundred metres in the other direction is the delightful sandy beach proudly displaying its blue flag.

The Itanos Hotel makes an ideal base for anyone wishing to just enjoy the pleasures of an authentic Cretan town but the family do also offer a low-key activity programme and those wishing to explore the mountain villages, historic sites and hidden beaches of one of the least known areas on the island can take advantage of the special car hire rates offered if you collect your hire car at the airport on arrival.

Interactive Map
Please use the controls on the map to zoom in and out,
or move the map with your mouse.
Other Accommodation in Eastern Crete
Other Areas in Crete
Our Other Destinations