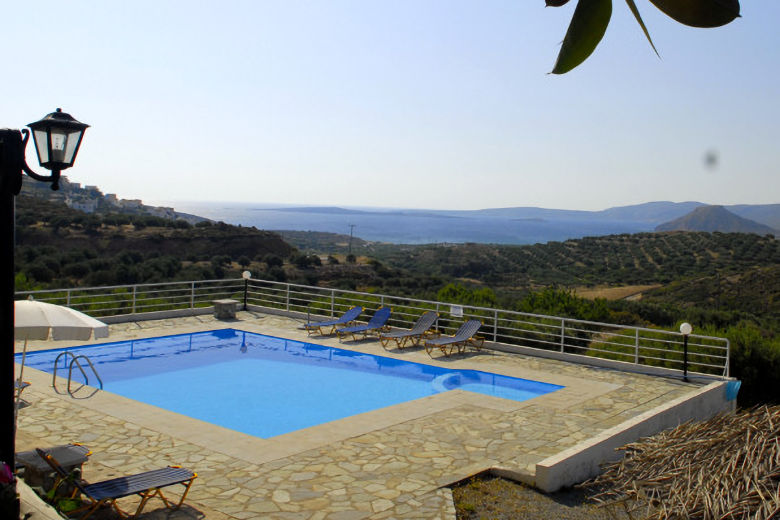 Kouremenos Villas
Set on the hillside behind Kouremenos Beach, with splendid views down to the coast, these recently renovated apartments are popular for their scenic setting and their warm personal welcome.
8 Apartments with 1 or 2 bedrooms for 2 - 5 people
Self-Catering
Swimming pool
Air-conditioning
Car hire included
The Kouremenos Villas sit on the hillside just above the wide arc of Kouremenos Beach with superb views of the whole sweep of the bay and the mountains beyond.

The five original apartments are arranged in a single-storey terrace, and were fully renovated and refurbished a few years ago. Three of these have one twin bedroom whilst the other two have both a double and a twin bedroom and all are air-conditioned. The living rooms all incorporate a sofa-bed and a fitted kitchenette with a fridge, hob and oven as well as an electric kettle and toaster. Each apartment has a modern shower room, and each of these opens onto its own terrace.

Just below these terraces is a paved garden with well-tended varieties of trees and shrubs and where those feeling sociable can enjoy a shared meal or barbecue. From here, a few more steps lead down to what must be the quintessential 'pool with a view' complete with sunbeds and sunshades.

To the rear of the original villas, the charming and hospitable owners Yiannis and Aspasia, have built an attractive two-storey building which comprises their own home as well as three additional apartments, which are a little more modern in style but which offer the same facilities and - thanks to their elevated setting - the same panoramic views down towards the coast.

Living on site, Yiannis and Aspasia, are always on hand to look after their guests. Without being in any way intrusive, they offer all sorts of advice on the local area, not to mention the occasional home-baked goodies and vegetables from the garden.

Kouremenos Beach, with its three seaside tavernas, is just a fifteen minute walk down the hillside and the village and Chiona Beach just a few minutes drive away although many guests are more than happy to wile away their days in the serenity of the villas' grounds.

The atmosphere at Kouremenos Villas could not be more relaxing and it is an ideal location for those wishing to wake up to the sound of distant goat bells and breakfast on a terrace with a truly stunning view.

Interactive Map
Please use the controls on the map to zoom in and out,
or move the map with your mouse.
Other Accommodation in Eastern Crete
Other Areas in Crete
Our Other Destinations