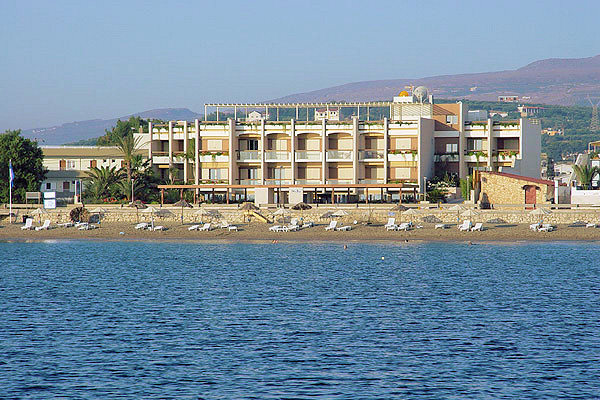 Sitia Bay Apartments
Ideal for those seeking comfortable self-catering accommodation in an authentic and convenient setting, these beachside apartments are beautifully appointed in contemporary style.
19 Studios and 1-bedroom Apartments for 2 - 4 people
Self-Catering
Swimming pool
Air-conditioning
Transfers included, or reduced car hire rates
Athough Sitia, with its sandy beach and charming atmosphere, has long been one of our favourite places on the island, we have never before found any suitable self-catering accommodation in the area. We were therefore delighted to discover the Sitia Bay Apartments with their ideal combination of latest generation accommodation and excellent position.

Just opposite the sandy beach and only the shortest of strolls from the heart of the town, the 19 studios and one-bedroom apartments were designed to provide an excellent level of comfort and convenience. Each of the spacious studios and apartments has a sheltered balcony facing the sea and is contemporarily furnished to a high standard. Much thought has gone into their design and naturally they are all air-conditioned and incorporate a practical fitted kitchenette and modern bathroom. Each also has a satellite television, telephone and fax.

The front gardens below the individual balconies are beautifully planted and incorporate relaxing waterfalls amongst the profusion of plants. Despite the fact that the beach is only a few metres beyond the gardens, hidden from public view behind the building is a lovely swimming pool and sun deck with a small pool bar. Tucked away in the basement there is a small fitness room for those who wish to maintain their regular routines or work off the excess after indulging in some of Sitia's excellent waterfront restaurants.

Despite its modern facilities Sitia Bay remains very much a family-run operation with hospitality being the key-word. The friendly owners can offer advice on all aspects of the local area ranging from how to reach Petras, the nearby Minoan town, on foot to tips on the local cuisine.

The Sitia Bay Apartments may not exactly be a budget conscious option but the ambience, facilities and position give them all the ingredients necessary for a truly memorable stay in one of Crete's most appealing towns. What indeed could be better than relaxing with a sundowner on your balcony, or the well-furnished communal roof terrace, at the best address in town and anticipating an evening stroll along the waterfront to dine on the freshest of local ingredients washed down by Sitia's famous wine.

Interactive Map
Please use the controls on the map to zoom in and out,
or move the map with your mouse.
Other Accommodation in Eastern Crete
Other Areas in Crete
Our Other Destinations