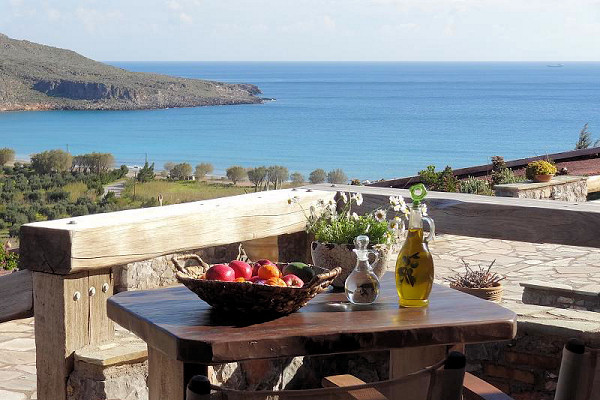 Terra Minoika
A small cluster of beautifully designed apartments combining traditional character with modern comforts in an unspoilt setting on Crete's remote East Coast
5 apartments with one or two bedrooms for 2-5 people
Bed & Breakfast
Air-conditioning
Car hire included
Free WiFi
Tucked away in the centre of Crete's utterly unspoilt east coast, the small hamlet of Kato Zakros is a very special place with a profoundly peaceful atmosphere. In spite of boasting a couple of noteworthy visitor attractions, Kato Zakros remains well and truly off the beaten track, as only the most determined explorers - and those seeking complete relaxation - tend to venture to this remote corner of the island. Hikers can therefore enjoy the spectacular Zakros Gorge - also known as Dead Man's Gorge or Valley of the Dead - without the crowds that shuffle along the more famous Samaria Gorge, whilst the Minoan Palace of Zakros attracts just a tiny fraction of the visitors that flock to Knossos, and as a result feels much more evocative and atmospheric.

Kato Zakros consists of a few fisherman's cottages, summer houses and holiday homes, scattered discretely across the fertile valley that fans out from the lower entrance to the gorge, and a cluster of traditional tavernas set just behind the sand-and-pebble beach. We would certainly recommend a visit to Kato Zakros to anyone staying in the east of Crete who has an interest in Minoan archaeology - or simply enjoys a leisurely lunch in a delightfully unspoilt seaside setting - but the only way to fully appreciate the village's magical ambience is by actually staying here, so that you can adapt to its slow pace, absorb its relaxing atmosphere, and marvel at the brilliance of the night skies, untarnished by any light pollution.

Standing in an elevated setting approximately 350 metres from the beach, Terra Minoika is the creation of Stella and Elias, a charming and cultured couple who designed it as a hymn to traditional Greek architecture, built entirely from native stone and wood and thus blending harmoniously into its natural environment. Beautiful stonework and hand-crafted artefacts lend the interiors a highly individual charm, yet for all their traditional character, the half-dozen apartments that make up Terra Minoika also offer a thoroughly up-to-date level of comfort. Hot and cold air-conditioning ensures a pleasant temperature whether you are travelling during the height of summer or at the start or end of the season, and a good night's sleep is further aided by the provision of Dunlopillo mattresses and pillows made from natural Talalay latex together with quality sheets and duvets. Most of the apartments have one bedroom with a queen-size bed, separated from the living room by an archway with a thick curtain. The living area incorporates a convertible sofa-bed for up to two people, satellite TV (limited English-language channels) and a fully equipped open-plan kitchen with fridge-freezer, hob, mini-oven, kettle, toaster and espresso machine. There is also a family apartment with a small second bedroom with twin beds and the option to sleep a fifth person in the lounge. Each apartment also has an attractive shower room, a hairdryer and free wifi, and all have furnished, partially shaded terraces. The upper-floor apartments enjoy views of the sea from their adjoining terraces, whilst the ground-floor apartments, which have garden views, also have the use of a terrace with sea views approximately 20 metres away.

Apart from the charming accommodation and the peaceful setting, what makes staying at Terra Minoika such a joy is the genuine hospitality and warm welcome offered by Stella and Elias, who feel passionate about their area and wish to ensure that their guests enjoy it to the full. Both are former athletes and still enjoy a healthy, active lifestyle: Elias is a keen hiker and can advise you on local walks or may even guide a group of guests from time to time, whilst Stella may teach you traditional Greek dances. They also have an extremely well equipped gym on site, that guests are welcome to use.

Due to the remote location, we automatically include car hire in your holiday here, and it is worth noting that the nearest grocery shop is approximately 4 km away in the upper village of Zakros (although Stella will provide you with ingredients to prepare your own breakfast each morning). For an occasional change of pace, the nearest larger towns with more comprehensive facilities are Sitia and Ierapetra, whilst other nearby attractions that you may wish to explore by car include the Toplou Monastery and the famous palm beach at Vai, although the peak-season crowds at the latter will probably make you glad to return to this thoroughly off-the-beaten track retreat!

Interactive Map
Please use the controls on the map to zoom in and out,
or move the map with your mouse.
Other Accommodation in Eastern Crete
Other Areas in Crete
Our Other Destinations