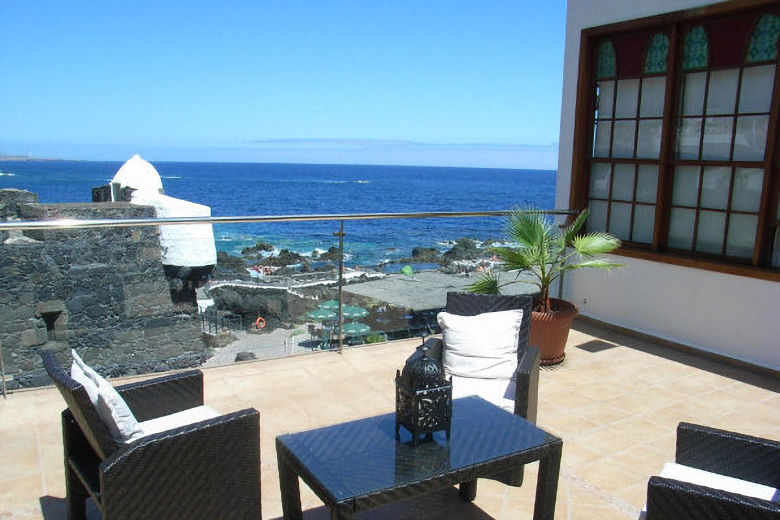 Garahotel
Standing on Garachico's seafront opposite the ancient castillo, this lovingly restored townhouse offers accommodation full of character and a delightfully informal, personal ambience.
Rural Hotel with 16 rooms
Bed & Breakfast
Car hire included
Garachico is not only a personal favourite of ours, but is widely regarded in all the guidebooks as one of Tenerife's finest gems. This small town on the island's north coast enchants visitors with its scenic setting, its beautiful historic buildings, its authentic Canarian ambience and its intriguing history: it was one of the most important ports in the Canary Islands until a volcanic eruption in 1706 not only destroyed much of the town but also reshaped the coastline itself!

We were therefore delighted to be given the opportunity to feature another delightful little hotel here, the newly opened Garahotel. Restored from an ancient townhouse in a labour of love that took a couple of years, the hotel's setting could hardly be more appealing - right on the seafront, just opposite the emblematic Castillo and the natural rock pools that were created by the lava-flows of the 1706 eruption. Entered from the narrow cobbled street to the rear, the building still oozes old-world charm from every pore of its thick stone walls, but sympathetic conversion has ensured that there is nothing old-fashioned about the level of comfort.

There are just 16 rooms, most of them leading off the central courtyard that opens out towards the sea at one end. All are comfortably furnished and individually decorated, with paintings created by an artist friend of the hotel's owner. Each room benefits from a ceiling fan, a small fridge, satellite TV (limited English language channels) with built-in DVD player, telephone and internet access. Naturally, all rooms have en-suite shower rooms (which are partially open-plan in a small number of rooms). Type A rooms are located on the upper floor, whilst Type B rooms are on the ground floor and priced accordingly.

Communal facilities include an elegant lounge and a small bar/cafeteria situated at one end of the courtyard, where continental breakfast is served in the mornings and drinks are available throughout the day. There is also an upper floor terrace with splendid views across the Castillo and the rock pools to the ocean. Whilst the hotel does not have a pool of its own, the large municipal seawater swimming pool is just 50 metres or so from the hotel (open during summer only; a small entrance few applies). In calm conditions, the rock pools also offer an appealing place to swim during the summer season.

What we particularly liked about the Garahotel is its appealingly informal and homely atmosphere, which allows you to stay in historic surroundings without a hint of the stuffiness that is often associated with such properties.

Interactive Map
Please use the controls on the map to zoom in and out,
or move the map with your mouse.
Other Areas in The Canary Islands
Our Other Destinations