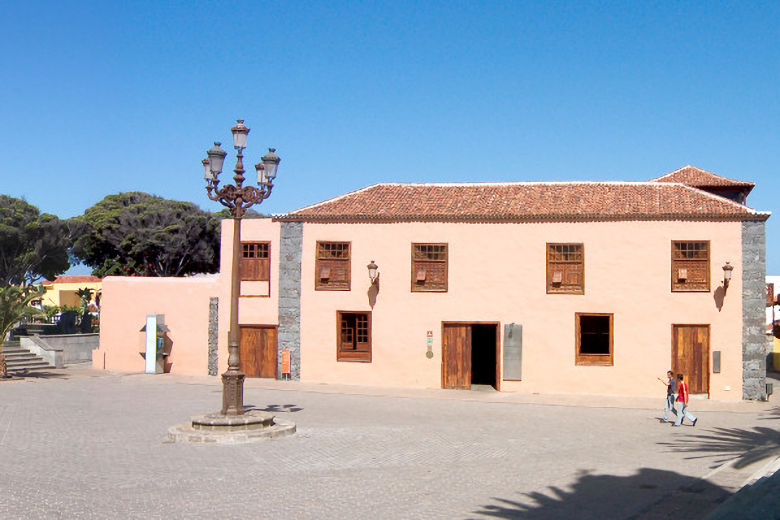 La Quinta Roja
Beatifully converted from a 17th century mansion in the historic north coast village of Garachico, La Quinta Roja offers stylish accommodation in an authentic setting
Rural Hotel with 20 rooms
Bed & Breakfast
Air-conditioning
Car hire included
Free use of mountain bikes
Once one of the most important ports in the Canary Islands, the small coastal town of Garachico may no longer have the power and influence of its heyday, but it remains one of the most attractive towns on the island, with several beautiful historic buildings bearing witness to the town's former wealth. One of these, a handsome 17th-century mansion situated on the picturesque main square, was recently converted into this delightful little hotel.

The restoration was carried out with great attention to detail, so that whilst the Quinta Roja now offers a thoroughly up-to-date level of comfort, it has lost none of its considerable old-world charm. Built around an enchanting courtyard, it comprises 20 rooms, which vary slightly in terms of size and layout. "Plus" rooms are slightly larger that the "Standard" rooms, whilst "Superior" rooms are the most spacious and have the best views. All room types are very attractively furnished in a contemporary style that complements the historic fabric of the building perfectly, and all are equipped with air-conditioning, direct dial telephones, satellite TV, CD players and modern bathrooms with hairdryers and bathrobes.

In spite of its rather stylish accommodation, the hotel has a disarmingly informal atmosphere, allowing its guests to feel relaxed and at ease from the moment they arrive. Most come to Garachico to enjoy the charm of the town itself and to explore the natural treasures of the surrounding region, Isla Baja, which boasts some of the most dramatic and unspoilt landscapes on the island. Guided walks can be arranged from here, and the hotel offers its guests mountain bikes free of charge.

After a day's outing, you can unwind in the rooftop Jacuzzi or treat yourself to a sauna. Although the Quinta Roja does not have a swimming pool of its own, Garachico's Olympic-size public swimming pool (open in summer only) is just 100 metres or so from the hotel, as are the natural rock pools for sea swimming, which were formed by lava flows from a volcanic eruption in 1706. There is also a tennis court next to the public pool.

As we believe that most guests would wish to explore the surrounding area at their own pace, we have included a hire car in our prices at the Quinta Roja, but for those who do not wish to drive, we can provide a quote based on taxi transfers to and from the airport instead, as a car is not strictly necessary in Garachico. There is certainly no need to drive in the evenings, as the town has several enticing restaurants.
Interactive Map
Please use the controls on the map to zoom in and out,
or move the map with your mouse.
Other Areas in The Canary Islands
Our Other Destinations