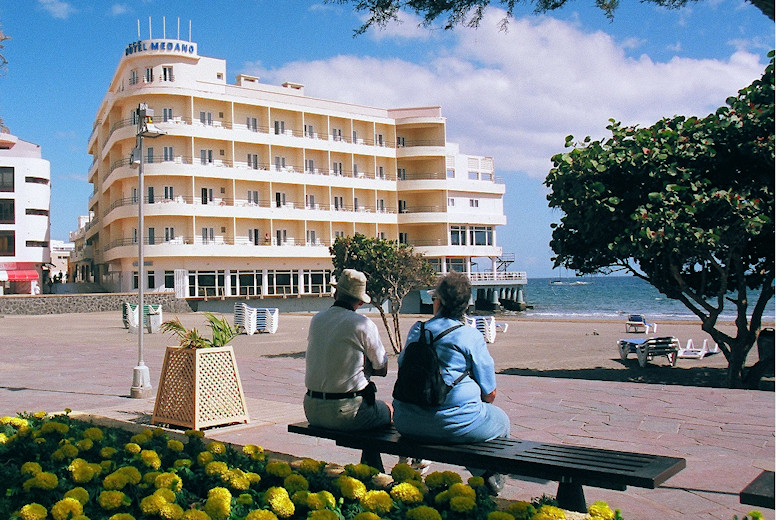 Hotel Médano
With its unique position on the very edge of the ocean in the relaxing resort of El Médano, this simple but welcoming hotel will appeal to guests seeking a beachside setting with an authentic local feel.
3-Star Hotel with 90 rooms
Half Board
Small swimming pool
Transfers included
The seaside town of El Médano is a place that people often overlook, as Tenerife's south coast is generally perceived as heavily commercialised and lacking in local colour. Whilst this is true of the resorts that lie west of the airport, such as Playa de las Americas, El Médano just to the east retains a very laid-back and intrinsically Canarian atmosphere, in spite of boasting what is generally considered the best natural beach on Tenerife.

This mile-long curve of fine, dark-blond sand, interrupted here and there by rocky outcrops, is renowned for its ideal windsurfing and kite-surfing conditions and at its farthest end naturism is accepted but this still leaves ample space for holidaymakers wishing to swim and generally potter.

Compared to the Disneyesque perfection of new, purpose-built resorts such as Costa Adeje, El Médano may look a little untidy around the edges, but it is a real town, where locals live and work, and gather in the evening in the plaza to chat and keep half an eye on their children, who in typical Spanish custom are allowed to play until the grown-ups go to bed.

The Hotel Médano has had pride of place in the town since the early days of tourism in the south, and stands just across the plaza right on the beach - not next to the beach, but literally on the beach, with its south-facing sun-terraces suspended on pillars above the ocean! One of these terraces incorporates a very small swimming pool, but most guests opt to swim in the ocean.

As an older-style hotel, it offers simple accommodation, but the staff are friendly and welcoming, the atmosphere is relaxed and unpretentious, and the place is well looked after. The 90 guestrooms, spread over five floors reached by a lift, are plainly furnished, but all have en-suite bath or shower rooms, and most have sea views. Rooms with balconies are available at a supplement (there are communal terraces on most floors for those rooms without balconies of their own). The hotel's first floor dining room, where both breakfast and dinner are served buffet-style, also eschews any pretence of sophistication, but it does benefit from huge panoramic windows looking directly out to sea. For those who wish to try out some of the atmospheric local restaurants, we offer the hotel on bed-and-breakfast basis, with an optional supplement for those who prefer half-board.

Whether you choose to eat in or out, it is always worth popping out for a night-cap in the plaza afterwards, to enjoy a drink amongst the locals and soak up the authentic Canarian ambience. Those looking for luxury accommodation, manicured lawns or British pubs should definitely look elsewhere, but those seeking a beach-based holiday in the sunny south of the island combined with a more laid-back, local ambience may well find El Médano quite to their liking.

Interactive Map
Please use the controls on the map to zoom in and out,
or move the map with your mouse.
Other Areas in The Canary Islands
Our Other Destinations